Dave Chappelle Apologizes For 'Bad Attitude' After Bizarre Comedy Set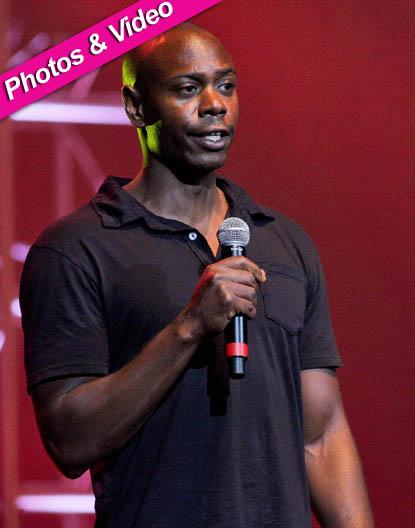 Dave Chappelle is apologizing for a bizarre, 53-minute 'comedy' set in which he didn't tell any jokes, stared at the crowd, and constantly checked his text messages on stage.
Audience member Andrew Barnett told the Miami Herald the comic lost his focus on Friday after hecklers got on him early into the set.
VIDEO: Dave Chappelle's Bizarre Comedy Set (WARNING: Offensive Language)
Chappelle "allowed the audience to dictate the stand up," Barnett said. "He acknowledged them, which created a problem ... instead of jumping into the routine, he was responding to people."
Article continues below advertisement
"I've been on stage more than 40 minutes. I've only told one joke," a frustrated Chappelle told the audience during Friday's set, during which he frequently checked his text messages. "The audience has told 38 jokes. F*cking fantastic, "he said from on stage.
CNN anchor Roland Martin - who happened to be in the crowd - tweeted from the event: "Chappelle says this is a 'test of wills.' He keeps saying 'tick tock' and he has 'nothing but time.' He's just staring at the crowd and sighing."
The next night - on Saturday - Dave Chappelle apologized for his "bad attitude" during a set at retired NBA star Alonzo Mourning's Summer Groove charity event at the Seminole Hard Rock.
Chappelle's Saturday set went well, as the comic did a good job for the 10 minutes he was onstage, according to local reports.
MEL AUDIO TAPE #1: Mel's Racist Rant
Chappelle's been relatively quiet since turning down more than $40 million from Comedy Central to continue his hit Chappelle's Show seven years ago.