Exclusive
Rihanna Falls for Her 'Dirty Dancer' And First Love Negus Sealy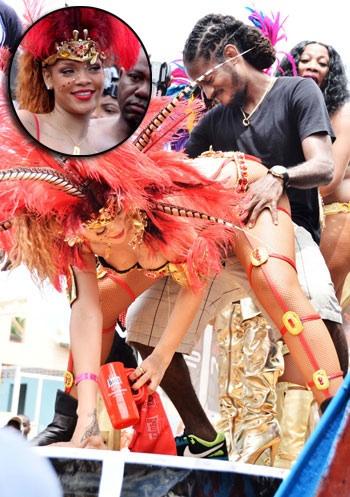 By Cliff Renfrew - RadarOnline.com Staff Reporter
It was a photograph that shocked even Rihanna's over-exposed fans - a man grinding behind her as she bent seductively over wearing only a skimpy Carnival outfit in her native Barbados.
But RadarOnline.com has learned that the man in question, Negus Sealy, was in fact her 'first love' and as their 'dirty dancing' suggests the pair have gotten really friendly again.
Article continues below advertisement
Superstar Rihanna - who split-up with LA Dodgers baseball star Matt Kemp last year and was rumored to have been seeing hip-hop singer Drake - is back with Sealy.
The Barbadian - who is nick-named Love God by local beauties - has been inseparable from Ri-Ri since she went home.
The couple has enjoyed an on-off relationship since they first started dating in 2006 before her mega-watt career music career took-off.
And when her violent relationship with Chris Brown was exposed in 2009 she turned to her first love for support.
A source told the UK's Sun newspaper: "Negus has hardly left her side. He was her first true love but all the ladies love him - they call him the 'Love God'.
"They have hooked-up in the past when she's back in Barbados but now things have progressed to a proper level again."
And judging by the racy images of the pair dancing together at the Kadoomet Day Festival Rihanna and Sealy are very much an item again.
Article continues below advertisement
Partygoers claimed the pair was all over one another and they were acting just like a love-struck couple.
The superstar seems to love being back home and she has been drumming-up support for her concert in Bridgetown on Friday.
She just tweeted: "I know de Bajans comin out to ALL tomorrow nt!!!! Dress to KILL!!!!!! My boy @JColeNC WILL be in the building!!!And our very own Coverdrive!"
Rihanna will officially begin her role as ambassador of Barbados tomorrow which will be marked by her concert which is part of her Loud Concert worldwide tour.