Rihanna Pays Homage To Fan Who Died In Car Accident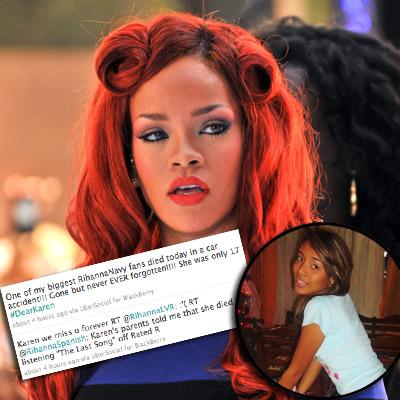 by Radar Staff
Rihanna paid tribute to a 17-year-old fan named Karen who tragically died in a car accident, reportedly while listening to tunes from her favorite singer.
The 23-year-old Barbadian tweeted Wednesday: "One of my biggest RihannaNavy fans died today in a car accident!!! Gone but never EVER forgotten!!!! She was only 17 #DearKaren...Karen we miss u forever."
Karen and another fan named Anderson were in charge of administering a South American-based fan site for the Rude Boy beauty called rihannaspanish.com, along with a Twitter page of the same name.
Article continues below advertisement