Exclusive
Penis Amputee Plans Appeal – Terrified Surgeon Will Ruin Someone Else's Life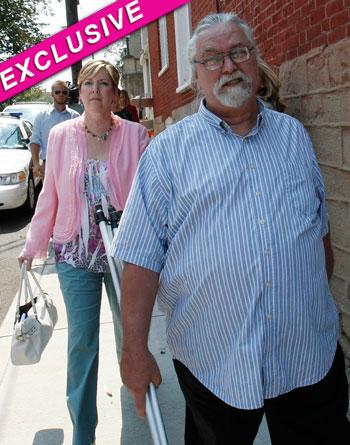 Penis amputee Phillip Seaton is planning to appeal after losing his case against a doctor who removed a portion of his manhood without his permission during a routine circumcision.
The 64-year-old was left "disappointed" yesterday when a jury in Shelby County, Kentucky unanimously voted that Dr. John Patterson exercised appropriate care during the operation in October 2007.
But Seaton's lawyer Kevin George told RadarOnline.com exclusively that "justice was not served" because his client "did not need to have his penis amputated.
Article continues below advertisement
"He should have been given the option of getting a second opinion and not have his penis taken away without his consent. He should have been allowed to have a functioning penis with reconstructive surgery and not to just have his penis amputated," George declared.
The lawyer said that he was also left fearful by the verdict because he and his client are concerned that the same thing could happen again.
"The idea that a doctor can get consent for a minor surgery like a circumcision and then go and use that consent as an authority to amputate a guy's penis is scary," George said.
The jury are thought to have been swayed because Seaton, who cannot read or write, signed a consent form for the routine procedure.
Within the signed forms, a disclaimer included language that recognized Patterson's right to perform any further surgery he deemed necessary if unforeseen conditions arose, explained Dr. Patterson's attorney, Clay Robinson.
Article continues below advertisement
"This was not a complication during surgery of a blood vessel being cut or a nerve nicked and something needed to be done to prevent the patient from dying," George argued though.
He added that he was also fearful that women could be affected by the verdict and needed to be protected. He says any new jury should speak loudly so the same thing doesn't happen to someone else.
"What if a woman goes to get a cyst removed from her breast and ends up with a mastectomy and the jury says that's ok?" He questioned.
MORE ON:
Celebrity Justice
"We are going to appeal. A doctor cannot change a surgery a patient has consented to unless the patient is likely to die on the table and there is fear of imminent death. I'm confident that we will be successful with our appeal."
Seaton still suffers complications from having his penis amputated and his groin area would become infected and irritated when he urinated because of his lack of his manhood.
Article continues below advertisement
He has now been fitted with an artificial urethra so that he can urinate sitting down.
Because there is nothing left of the father-of-two's penis, he does not have many options regarding trying to have a functioning penis again. Seaton and his wife of 35 years, Deborah, apparently had an active sex life before he lost his penis which he has said makes him feel "less of a man."
Deborah is said to feel sorry for her husband and he feels sorry for her that they've lost the physical part of their marriage.
"Some people in wheelchairs would prefer to die while others are content if they have their mental well-being. Many men would prefer to die than to live without their penis," George added.
Robinson told the court on Monday that his client had no other option but to remove the penis as it was riddled with deadly cancer and the tip looked like it "had the appearance of a rotten cauliflower."
The defense attorney also told the jury that Patterson only removed about an inch of the penis during the initial surgery before another surgeon removed the rest of his penis at a later date.