Exclusive
MLB Could Question Tobey Maguire Over A-Rod's Poker Ties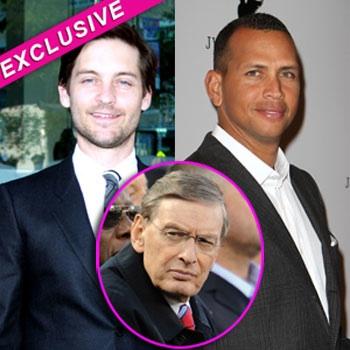 By Dylan Howard - Senior Executive Editor, Star magazine
Spider-Man star and underground card shark Tobey Maguire attended a top secret high-stakes poker game, alongside New York Yankees star Alex Rodriguez, Star is reporting exclusively via RadarOnline.com.
Maguire, 36, could be asked to provide evidence to Major League Baseball, which has ordered A-Rod to appear before Commissioner Bud Selig to explain his participation in the poker games.
Article continues below advertisement
"It's a possibility, although there is little if any power to compel Maguire to provide testimony to the MLB," a baseball insider told Star. "It's a question the Commissioner's investigators could ask, though."
As Star reported, Rodriguez was introduced to Tinseltown's top secret poker ring at the home of billionaire businessman Alec Gores, who is said to be worth $1.6 billion and last year tried to buy the Hollywood studio Miramax.
While the Yankees third baseman watched the card action, he did not play. However, Maguire gambled thousands of dollars in that game, Star has learned.
While A-Rod, the 36-year-old boyfriend of actress Cameron Diaz, previously denied he participated in the games, former players came forward to Star -- on newstands now -- and claimed otherwise.
The whistle-blowers said A-Rod opted in at a later game hosted at the $15 million home of record label owner Cody Leibel. He then hosted his own game at a friend's Miami home, that ended when one loser lost a hand an threatened other players.
Article continues below advertisement
Maguire is being sued for over $300,000, litigation which was initiated by the victims of a Beverly Hills financier who embezzled $25 million of his clients' money and used $5.2 million of it to pay off monster poker debts to a host of players.
As allegations mount around the secret poker sect, the actor has told a Los Angeles court that his winnings only amounted to around $187,000 and insisted that he lost nearly as much as he won.