EXCLUSIVE: MLB Commissioner To Interview A-Rod Over Illegal Poker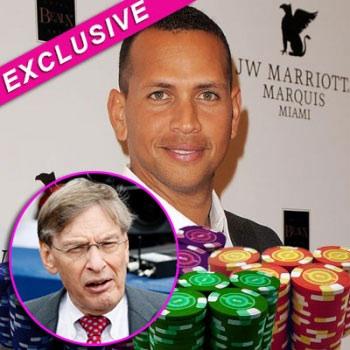 By Dylan Howard - Senior Executive Editor, Star magazine
Major League Baseball commissioner Bud Selig has ordered New York Yankees star Alex Rodriguez to appear before investigators over allegations -- first published in Star magazine -- that he played an illegal poker game where cocaine was openly used and another which turned violent.
"We take this very seriously and have been investigating this matter since the initial allegation," an MLB spokesperson told Star, in an exclusive statement.
Article continues below advertisement
"As part of the investigation, the Commissioner's Office will interview Mr. Rodriguez."
As Star reported, former players in the top secret Texas Hold 'Em ring have rejected Rodriguez's earlier denial that he never played in the ring.
The insiders told Star exclusively that A-Rod gambled on at least two occasions, in games organized by stunning brunette Molly Bloom, who coordinated the sophisticated A-List poker operation that included Tobey Maguire, Ben Affleck, Leonardo DiCaprio and Matt Damon.
NEW PHOTOS: Cameron Diaz & A-Rod Play Ball
None of the stars played in the same game as A-Rod, Star has learned.
Another MLB official, speaking on the condition of anonymity, said A-Rod could be suspended.
"We're talking to people involved in the investigation and we're taking this very seriously," the executive reportedly told ESPNNewYork.com.
"Because he had been warned about this before, I would say a possible suspension would be very much in play."
Article continues below advertisement
As Star reported, league officials are said to be concerned about one of the game's biggest stars being associated with an illegal gambling operation.
Even worse for the Yankees' all-star, it's not the first time he has been in hot water over his gambling habit; in 2006, Selig reportedly warned Rodriguez to stay out of New York's illegal poker dens.
"Bud's totally fed up with him," a baseball insider reportedly told ESPNNewYork.com. "It's like there's something new with him every day and it's impossible to keep up with it."
Rodriguez is currently inactive for the Yankees after undergoing surgery on July 11 to repair a slightly torn meniscus in his right knee.
He has been spotted in Miami with girlfriend Cameron Diaz, in the meantime.
While he was expected to begin baseball activities Thursday in Tampa, the new controversy appeared to leave the Yankees blindsided, with general manager Brian Cashman telling reporters: "I don't know anything about it."