Exclusive
Maria Bello Brings Change To Haiti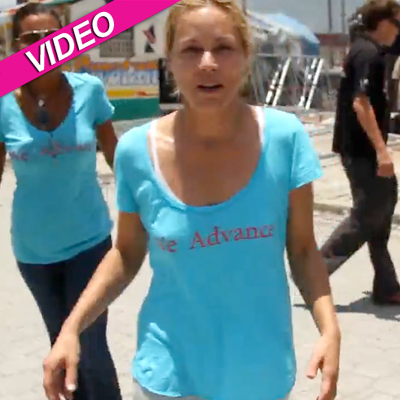 By Leah Ornstein - RadarOnline.com Style & Beauty Editor
After the devastating earthquake in Haiti in January 2010, actress Maria Bello and a group of women started the WE ADVANCE charity to improve the health, safety and well-being of women throughout the slums of the ravished country's capital city, Port-au-Prince.
The group recently re-visited the developing nation, bringing a camera crew with them to document their program in action, and RadarOnline.com has the inspiring video, narrated by the critically acclaimed actress and directed by Paul Galichia.
Article continues below advertisement
In the video, which premiered at The Hamptons For Haiti Benefit last month to a crowd which included Mariska Hargitay, Liev Schreiber, Fisher Stevens, Patricia Arquette and Donna Karan, Bello explains how she, Barbara Guillaume, Alison Thompson, Aleda Frishman and a group of prominent Haitian women got together to discuss the problems facing Haiti.
"This small country boasts over 10,000 NGOs and received over a billion dollars of aid after the earthquake, yet the conditions remain abysmal," Bello says. "Where did all that money go? It made us angry. WE ADVANCE was created because, basically, we were p***ed off. We wanted results."
In the last 7 months, the group has created the Nap Vanse Family Clinic, which has seen and treated more than 10,000 people, started-up educational programs, providing natives with the opportunity to learn English and take classes in sanitation, art therapy and physical education, and also treated children to a weekly wash day, where 200 kids get to take a bath.
To find out more information about WE ADVANCE, visit their website.