Exclusive
Katherine Schwarzenegger Breaks Her Silence On Parents' Breakup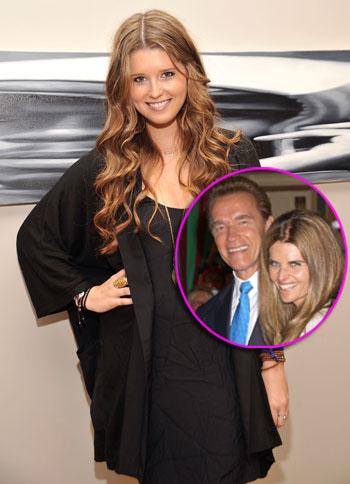 - RadarOnline.com Senior Reporter
She says she has always been closer to her mom, but her parent's breakup still hurt.
Katherine Schwarzenegger, 21, the oldest child of Maria Shriver and Arnold Schwarzenegger, broke her silence on her parents recent very public split and admitted how difficult the situation can be.
"I really do believe everything happens for a reason," Katherine told Harper's Bazaar magazine in a revealing new interview.
Article continues below advertisement
"A lot of the time, it's hard to understand in the moment why things are happening, but I really do think that. I also like to think God doesn't really give you anything you can't handle."
Since her parents' separation she has been photographed with both Arnold and Maria, but claims to have a stronger relationship with her mother.
"I've always been way closer to my mom," Schwarzenegger said. "Even when I was little, I was glued to her all the time. I'm close to my dad, but they're totally different kinds of relationships. I talk to my mom about six times a day, and we constantly e-mail in between that."
Katherine said their physical similarities are growing more noticeable. "People say that I'm her twin. I guess it would be the Kennedy genes; my cheekbones are coming out. We'll be at the breakfast table and my mom will look over at me and say, 'I see them!'"
The devastating news that her parents were separating and the public learning her father had fathered an illegitimate child with their housekeeper Mildred Baena changed her previously sheltered life.
MORE ON:
Arnold Schwarzenegger
Article continues below advertisement
"Me and my siblings have never really been in the spotlight growing up," she said. "My parents always really sheltered us, so when the separation started happening, it was like everything came out of nowhere overnight. I would go out to lunch, and literally 20 people would come and scream at me. And I'm like, This is so inappropriate; you're trying to provoke me to have an attack and say something crazy."
Entering her senior year of college at the University of Southern California Katherine said she'd even like follow in her mother's professional footsteps, working as a broadcast journalist, ideally for the Today Show.
Check out all the details of Katherine Schwarzenegger's revealing interview in Harper's Bazaar, on newsstands now.
RELATED STORIES:
Arnold Schwarzenegger Makes First Public Speech Since Love Child Scandal