Arnold Schwarzenegger Makes First Public Speech Since Love Child Scandal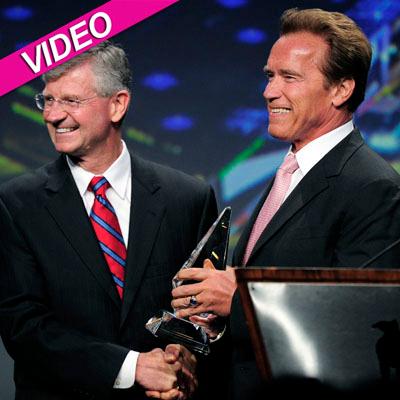 Disgraced former California Governor Arnold Schwarzenegger made his first major public appearance Thursday night, months after the bombshell revelation that he fathered a child out-of-wedlock with his former housekeeper.
Schwarzenegger delivered a 10 minute keynote address before a largely enthusiastic crowd at the American Chamber of Commerce Executives convention in Los Angeles.
During his speech, Schwarzenegger stayed on course and didn't stray from the tone of the conference, discussing what he learned from the state's budget woes while serving as governor and how California can become more attractive to investors. He also warned against political gridlock.
Article continues below advertisement
"We have too many of the legislators that are too far to the right or too far to the left, and therefore nothing gets done," he said.
He also injected some humor.
"I'm gonna run in 2012," Schwarzenegger told the cheering audience at L.A. Live. "I'm gonna run for President of the National Bodybuilding Association."
Schwarzenegger made no mention of his pending divorce from Maria Shriver and ended his speech by saying: "Thank all of you for being here today."
And then, as he left the stage, he threw out a zinger – borrowing his famous line from The Terminator films: "Hasta la vista, and I'll be back."
Schwarzenegger received a standing ovation, but despite the receptive crowd, KNBC-TV in Los Angeles reported that some people did not attend the convention out of protest.
People actually did not come to this event because they were upset about that," Tuesdae Knight, a San Antonio, Texas attendee told the L.A. TV station. "You know what, he's a politician, and he made an awful mistake."
Article continues below advertisement
As for Arnold's future? Last month, he announced he will be returning to acting. His first project will be starring in the Lionsgate film Last Stand, where he will play a border-town sheriff who unwittingly finds himself battling a notorious drug kingpin on the run.
Whether audiences embrace Schwarzenegger remains to be seen. His reputation took a hit when, after 25-years of marriage, he and Shriver announced their separation in May after it was revealed that he had fathered a child with Mildred "Patty" Baena, who had been the family's housekeeper for 20 years.