Exclusive
Jesse James Ex-Wife Janine Lindemulder Has A Tattoo Honoring Him Too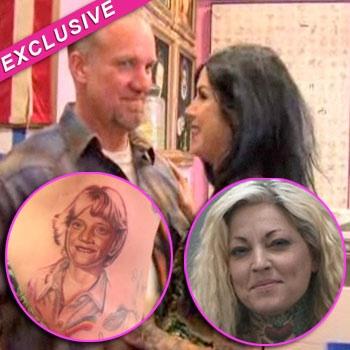 By Cliff Renfrew - RadarOnline.com Reporter
Jesse James ex-wife Janine Lindemulder can understand why Kat Von D got a tattoo of the motor bike mogul on her body - because she got one too!
The LA Ink star was left red-faced after she got a childhood photograph of James tattooed on her rib cage just before he dumped her.
But although a lot of people might have been laughing at gullible Kat, former porn star Lindemulder has sympathy for the jilted tattoo artist.
Article continues below advertisement
She revealed: "Jesse is the ultimate con-man when it comes to romance and love. He can appear so sweet and sincere that he really makes you feel so special.
"I got his name tattooed on my forearm after just 12 days of us being together because I was so smitten with him - but I got that replaced with a snake which represents him getting eaten now!
"People should not judge Kat so harshly I'm sure at the time she really thought that Jesse really loved her and that's why she did it.
"Unfortunately, just like myself and Sandra Bullock and any other woman Jesse has been involved with the only person that the guy truly loves is himself!
"I never met Kat but she always treated my daughter Sunny well and I'm truly grateful about that - I'm sure she will be ok in time Jesse is not worth getting upset about."
Several sources have told RadarOnline that the split with James has hit the LA Ink star particularly hard after she discovered he had been seeing another woman.
Article continues below advertisement
She announced the split via her Twitter account last Monday: "I am no longer with Jesse, out of respect for him, his family and myself, that's all the info I'd like to share."
The normally composed tattoo artist walked-out of the Good Day LA morning show last week after hearing an anchor talk about her split with James.
Kat and Jesse started dating last August, shortly after his July 28 divorce from his Oscar winning wife Sandra Bullock. They announced their engagement just five months later.