Store Denies Wrongdoing In Underage Model T-Shirt Controversy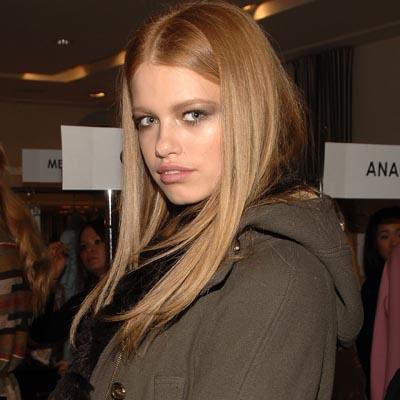 By Adam S. Levy - Radar Staff Writer
Los Angeles boutique Blood is the New Black claims it was unaware it had been selling shirts of an underage 15-year-old model in a provocative position that's become the centerpiece of a $28 million lawsuit.
As we previously reported, the parents of the model (identified by the New York Post as Hailey Clauson, now 16) filed the suit in New York against photographer Jason Lee Parry and three retail outlets -- Blood Is The New Black, Brandy & Melville and Urban Outfitters.
Article continues below advertisement
The parents claim in the lawsuit the image was plastered on shirts without their permission. (Photographer Parry, 32, claims the girl's parents gave him their OK to snap the controversial image and were present when it was taken; and that the image was stolen from him and marketed.)
In its' response, the store claims the content was received directly from Parry; that it didn't know the model hadn't signed a release; and that it only found out the model was underage after the shirt had hit its' shelves.
Here is the direct statement from the store sent to RadarOnline.com:
"Blood is the New Black has chosen to directly address the allegations by Teen Model as a result of stories in the press ...
"Today at Blood is the New Black we were confronted with disappointing news regarding a garment we produced featuring an image by photographer, Jason Lee Parry. Blood is the New Black takes its relationship with all of our artists very seriously and we pride ourselves on opportunities the line has provided them to further their careers.
Article continues below advertisement
"Due to this fact, we are shocked to hear and unequivocally deny any theft of artwork from the photographer, as stated in NY Post and other articles. The images were delivered to us by Jason Lee Parry with the sole purpose of producing tee shirts and marketing them to our network of stores worldwide.
"One image, depicting a woman on a motorcycle, was printed on men's and women's tee shirts and sold to a number of stores, including Urban Outfitters. Neither Urban Outfitters nor Blood is the New Black were aware that the photographer had failed to obtain a model release from the Teen Model or her parents, who were present at the shoot. Blood is the New Black values its relationship with Urban Outfitters and all our customers and feels as though they must not be held responsible for this gross oversight.
10-Year-Old French Model Ignites Worldwide Controversy
"Blood is the New Black is very sensitive to the matter at hand as it was revealed to us that the Model was underage after the release of the tee shirts. We do not take this issue lightly as many of our customers are young men and women.
"Blood is the New Black has always been supportive of up and coming artists - our core mission is provide a space for emerging talent in design, art, and photography. The line has produced over a thousand images bearing works by 50 international artists, many of which our customers have come to know, love and support.
Article continues below advertisement
16-Year-Old Bride's Mom Defends French Culture Over 10-Year-Old Model Controversy
"We find it unfortunate that after six years of business we find ourselves, and our partners, part of a situation brought on by a lack of proper protocol from a member of the artistic community. We have addressed this issue internally to ensure such an egregious oversight never occurs again."
Stay with RadarOnline.com for more details on this story as they break.