Authorities In Aruba Think Missing Tourist Robyn Gardner Is Dead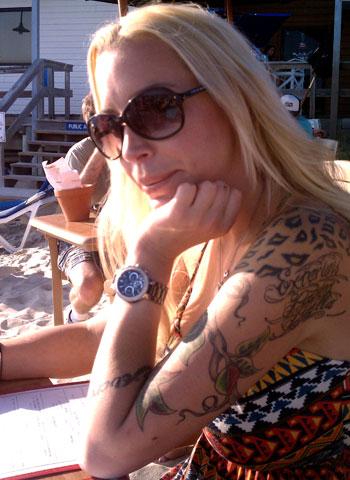 After a week of fruitless searching on land and sea for missing Maryland woman Robyn Gardner, authorities in Aruba believe that she will not be found alive.
Prosecutors in the case are diligently gathering enough evidence on prime suspect, and Gardner's travel partner, Gary Giordano, before he goes before a judge on Monday in order to extend his detainment on the Caribbean island for an additional eight days, RadarOnline.com has learned.
Article continues below advertisement
Giordano told police that Robyn was apparently pulled away by the ocean current as they snorkeled off the southern tip of the island on August 2, reported MSNBC.com but her remains have not been recovered.
"As long as we don't have a body, you can question whether or not she is dead," explained Solicitor General Taco Stein in Aruba. "On the other hand, with all the publicity on the case, if she were still alive she would have made herself known."
According to ABC News, Giordano's Maryland home was searched by the FBI on Thursday, while authorities in Aruba have been scouring electronic devises owned by both the suspect and his missing 35-year-old companion.
Stein explained that there have been serious inconsistencies in Giordano's statements, but explained, "When you don't have a body and you suspect that there's foul play, it's always a problem."
Article continues below advertisement
He added that Giordano has stopped cooperating with authorities, meanwhile his attorney Michael Lopez has instructed his client not to talk to the media but claims that there is no motive or evidence to charge his client with murder.
The investigation is currently focused on contacting witnesses who saw the vacationing couple on the island in an effort to discover how they acted together, and if they quarrelled or seemed close.
"We have very little information about what they did on the island. The information we have doesn't give us insight into their relationship," said Stein, reported MSNBC.com.
RadarOnline.com previously reported that Gardner's boyfriend, Richard Forester, beleives that Giordano is involved in her disappearance.
"My gut is telling me that he is involved with this, very much so," Richard Forester told RadarOnline.com in an exclusive interview. "If he is found guilty, then I want the worst possible thing to happen to him. I am not judge, jury and executioner."
Article continues below advertisement
Former dental assistant Gardner had traveled to the Caribbean island with Giordano after the pair reportedly met on Match.com a year ago, unbeknown to Forester, who she had been dating for the past 2 1/2 years.
The name Gary K. Giordano, a 50-year-old from Gaithersburg, Maryland, was a mystery to Forester before Robyn's disappearance, but women who dated Giordano in the past have since reached out with disturbing stories.
"His past worries me," revealed Forester. "I have had a few people who have dated him in the past reach out to me. They said he is aggressive and angry.
"He is charming at first and then can become violent when he doesn't get what he wants."
Giordano has not yet been charged with any crime, and his attorney Michael Lopez insists his client is innocent and is being unjustly detained.
RELATED STORIES: