Exclusive
Angelyne Avoids Flashing The Cameras - Just Barely!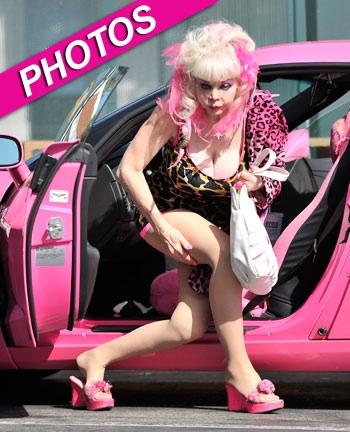 Britney Spears, Lindsay Lohan and Paris Hilton could take some pointers from Los Angeles' pink personality Angelyne!
The blonde billboard model, who ran for governor against Arnold Schwarzenegger in the 2003 recall election, was photographed getting out of her famous pink corvette over the weekend, just barely avoiding flashing her lady parts to the cameras - and RadarOnline.com has the photos.
Article continues below advertisement
PHOTOS: Angelyne Avoids Flashing The Cameras In Hollywood
Wearing a totally skimpy leopard print dress with pink heels and a Hello Kitty purse, the self-promoting actress and model strategically exited her impossible-to-miss car in Santa Monica without giving the cameras an x-rated show.
Angelyne has been a fixture in Hollywood since the 1980s, making appearances in movies such as Earth Girls Are Easy and King of Hollywood and has been taking up billboard space on Sunset Blvd for decades.