Exclusive
Al Pacino Dons Crazy Wig For Controversial Phil Spector Role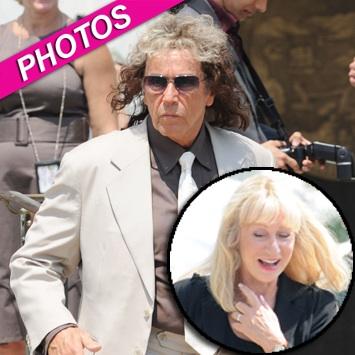 Article continues below advertisement
The film has angered Hollywood publicist Edward Lozzi, amongst others, who formed the group Friends of Lana Clarkson and they have accused the film's writer David Mamet of being pro-Spector and have called for Pacino and Mirren to ask him to change the script.
Lozzi said the movie is "an insensitive attempt to portray the loathsome, lying, gun-abusing convicted murderer of our friend Lana Clarkson with some kind of sympathy."
Mirren's publicist said she had received the protest group's request but she will stay in the movie.
"She's in the movie. She's not dropping out. That's all she's saying," her publicist said.
In a shiny suit, Pacino was filming the California court scenes in New York for the HBO Films movie that is still as of yet untitled.
In 2009 Spector was convicted of murdering Clarkson, after claiming she had committed suicide by shooting herself in the mouth at his home, and was sentenced to 19 years to life.