Exclusive
Doug Hutchison's 16-Year-Old Bride Not Ready To Be A Mom - Just Yet!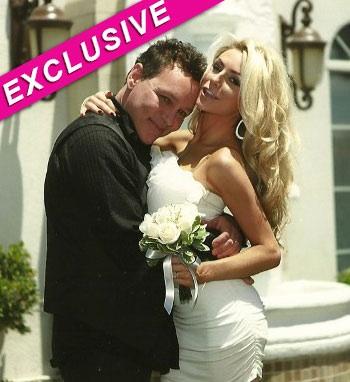 By Alexis Tereszcuk - Radar Senior Reporter
Courtney Stodden had the blessing of her parents when she couldn't wait to marry actor Doug Hutchison, a man 35 years older than she -- but one thing she's not rushing into is motherhood.
In an exclusive interview with RadarOnline.com the 16-year-old bride's mother Krista Stodden revealed that her daughter, who was a virgin when she got married, is practicing safe sex and isn't planning on having a baby right away.
Article continues below advertisement
"She's making sure as much as she can at this time that it isn't happening," Krista said about her newlywed daughter, who tied the knot Hutchison in Las Vegas in May.
"She's on birth control because she would prefer to wait for children," her mom said. Her husband might have a different idea though. "I think Doug would love to have children, but Courtney wants to wait a few years."
"Courtney wants to work on her career," Krista explained, but knowing that accidents do happen, she said it would be a joy to the family if her daughter did fall pregnant.
"If something happens we do not believe in abortion, so if God blesses them that would be ok, but they're not trying for a baby now," she says.
As a would be doting grandmother, Krista said that if Courtney and Doug did have children: "the baby would be so creative. Doug is brilliant, so creative and they both would pass on so many creative genes."
Meanwhile, married life is treating her daughter well Krista told RadarOnline.com. "Doug and Courtney have a lot of exciting projects they're working on and their home life is wonderful.
Article continues below advertisement