Tobey Maguire Files Legal Papers Showing He's Also A Loser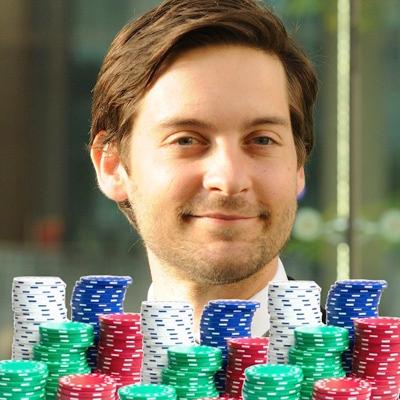 By Amber Goodhand - RadarOnline.com Reporter
Tobey Maguire was such a poker playing fiend that the Spider-Man star had separate bank accounts devoted entirely to his favorite card game.
RadarOnline.com has obtained a legal response that Maguire filed on July 5, 2011, to a lawsuit that was filed against him for money he'd won from convicted Ponzi schemer Brad Ruderman, and included copies of checks to prove he both won and lost money during the illegal poker ring games, putting him about even with Ruderman.
Article continues below advertisement
DOCUMENTS: Read Tobey Maguire's Legal Response
Not only does Maguire, 36, label his two checking accounts as "Poker Account" and "Poker Account (2)", but the actors checks included as evidence in his legal response give an eye-opening look at just how often he was playing poker and dishing out money for his hobby.
On January 8, 2009, Maguire wrote out check #60081 for $105,000 to Ruderman and then just two months later on August 6, 2007, check #60090 to Ruderman for $28,500.