Exclusive
Bizarre Hanging Victim Rebecca Nalepa's Shop-Lifting Past Revealed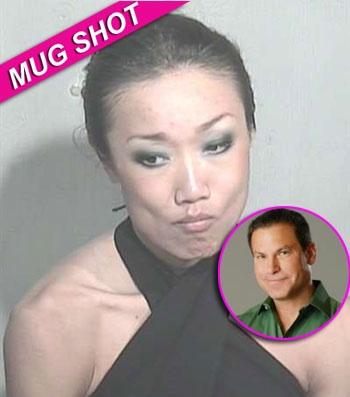 By Cliff Renfrew - RadarOnline.com Reporter
The woman at the center of bizarre death sequence that has baffled police was herself once on the wrong side of the law, RadarOnline.com can reveal.
Beautiful Burmese born Rebecca Nalepa - who was found hanging naked with her hands and feet tied at her wealthy boyfriend Jonah Shacknai's Coronado mansion - was busted for shoplifting in 2009.
Nalepa, 32, who died mysteriously two days after her boyfriend's son Max Shacknai, 6, suffered a fatal fall, is seen squirming in her mug shot.
Article continues below advertisement
Phoenix police confirmed to RadarOnline.com that Nalepa walked into a Macy's store before putting $1,000 worth of jewels into different shopping bags and leaving.
Police revealed that she was grabbed by the store's security guards before they called them and she was arrested.
Nalepa pled guilty to a misdemeanor and paid a $500 fine before attending a shoplifting 'diversion' course.
Former co-workers of Nalepa's at Horizon Eye Specialist & Lasik Center In Pheonix described her as a 'dedicated' and 'professional' employee.
The keep-fit fanatic swapped her humble life in Phoenix for a much more affluent one in Coronado, San Diego when she started dating multi-millionaire pharmaceutical boss Shacknai.
But that dream lifestyle was shattered recently after six-year-old Max suffered a fall while in her care before her own bizarre demise.
RadarOnline.com Online.com revealed today that Jonah Shacknai and his former wife (Max's mother) Dina Shacknai were involved in domestic altercations both before and during their divorce.
Article continues below advertisement
Investigators still aren't ready to say if Nalepa's hanging was a criminal act or suicide.
Sheriff's Sargeant Roy Frank said: "Sometimes suicide can look very similar to homicide or vice versa."
Frank added that he did not believe that her death stemmed from a sexual act taken too far.
The county Medical Examiner's Office has conducted an autopsy on Nalepa, but authorities have ordered it sealed.
An autopsy will also be performed on Max Shacknai, Lea Corbin, a Coronado police spokeswoman revealed - his death was considered 'accidental' the official confirmed.