Olivia Wilde: I Have Approval Over My Nipples!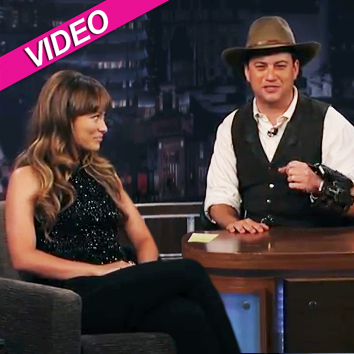 We've heard of big stars having approval over things like their publicity shots, their wardrobe, and sometimes, even over their directors – but their nipples?
Stunning actress Olivia Wilde told Jimmy Kimmel Wednesday that in her upcoming film with Ryan Reynolds, The Change-Up, she got to approve the presentation of her nipples after a technical problem on the set.
"I wasn't actually naked, but I appear to be naked cause they CGI'ed me naked," she said. "You wear pasties when you're on-set so people don't see your nipples," adding she likes "to draw little happy faces all over them" to amuse her colleagues.
Article continues below advertisement
She said while taping a scene in the sexy flick, Reynolds was supposed to be blocking her pasty-covered nipples, but he moved, exposing the pasties and causing filmmakers to superimpose CGI nipples onto her chest.
Sexy Summer Singles! Bikini Babes Ready To Mingle
The best part of the whole deal?
"I got to approve the nipples!" Wilde said.
"So there's a nipple artist!" Kimmel said. "The guys doing that sort of work must not have seen that many of them in real life."
"Exactly: Not since their mother!" Wilde said.
"It's a real nipple fest over there!" Kimmel joked.
Watch the video on RadarOnline.com
The red-hot actress has got two films coming out in the next eight days: Cowboys & Aliens opens in theaters Friday, while The Change-Up hits theaters August 5.