PHOTOS: Boobs, Bootys, Brains & Bikinis! The Smartest And Sexiest Stars In Hollywood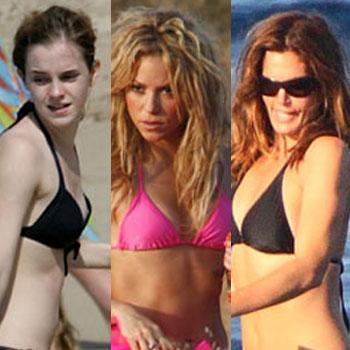 RadarOnline.com Style & Beauty Editor
These Hollywood stars aren't just sexy‹they are smart too!
RadarOnline.com has photos of the 10 sexiest and smartest babes on the beach stripped down and showing off their hot bodies in bombshell bikinis!
Olivia Wilde brings much more than booty to the beach‹the Cowboys & Aliens star is an undercover smarty pants. The divorcee is the spawn of two international journalists, and she spent her childhood talking politics with the most powerful people.
Article continues below advertisement
Emma Watson, Claire Danes, Natalie Portman and Jennifer Connelly are all Ivy Leaguer's, while sizzling singer Shakira and smoking hot Sharon Stone both claim they have startlingly high IQs.
Angelina Jolie may not be a college grad, but the gorgeous star holds her own in politics as a Goodwill Ambassador for the United Nations.
What other bikini babes are just as smart as sexy? Click here to find out.