Norway Massacre Suspect A 'Dexter' Fan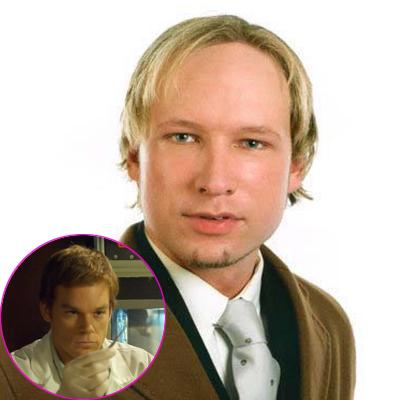 His golden movie star looks make him the most unlikely of mass murder suspects but that's exactly what Anders Behring Brevik is, according to Norway authorities.
Now RadarOnline.com has uncovered that Brevik's Facebook page listed Dexter as his favorite TV show.
Dexter is the cult hit Showtime series starring Michael C. Hall as a serial killer!
Breivik, a 32-year-old Norwegian native, is alleged to have gone on a killing rampage Friday. He has now been charged with brutally slaying at least 85 people, most of them children, on the island of Utoeya, plus another seven in a bomb blast in Oslo.
Article continues below advertisement
Another five five people are still missing, thought to have fled into the water in an attempt to swim away from the island where hundreds of children were enjoying a summer camp.
Brevik also described himself as a conservative Christian on his Facebook page. He said he's a member of Nordisk, a group with over 20,000 members that focuses on political terrorism.
Described by local media as a 'loner' he had never married and lived with his mother in a wealthy area of Oslo.
Well-educated and handsome, Brevik had started his own organic farm and listed his other interests as body-building and freemasonry on the social networking site.
Just days before the attacks he set up a Twitter account and posted the message: "One person with a belief is equal to 100,000 who have only interests."
It's not yet known why he is believed to have targeted the children at camp.
Facebook has now taken down Brevik's page, but dozens of fake ones have since materialized.