Innies Vs. Outies! Sexy Stars Reveal Their Belly Buttons In Bikinis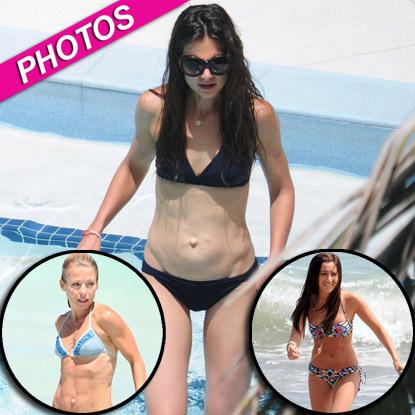 By Leah Ornstein - RadarOnline.com Style & Beauty Editor
Is she in an innie or an outie?
RadarOnline.com has photos of Hollywood's hottest bikini bodies, showing off their hot bodies – and belly button status – in the skimpiest of bikinis!
Heidi Klum and Gisele Bundchen have more in common than former gigs as Victoria's Secret Angels – the sexy supermodels both taut outie bellybuttons!
LeAnn Rimes and Megan Fox both are skinny-innies, while Katie Holmes is a smoking hot outie.
Article continues below advertisement
Other innies include former bffs Kim Kardashian and Paris Hilton, Audrina Patridge and Ashley Tisdale, while members of the outie club boast Kelly Ripa, Geri Halliwell and Alyssa Milano.
What other bikini babes are innies or outies? Click here to find out.
RELATED GALLERIES: