Arnold Schwarzenegger Visits Son Christopher In The Hospital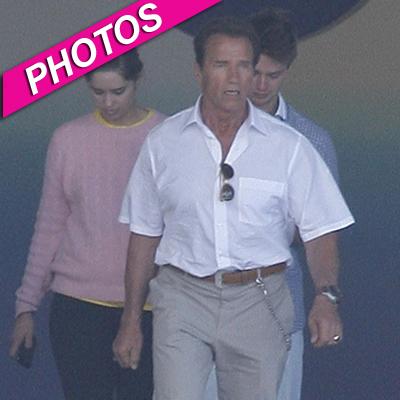 Arnold Schwarzenegger played the role of supportive father Saturday afternoon, visiting his son Christopher in the hospital where he is recovering from a surfing accident.
The former governor of California was spotted leaving the Mattel Children's Hospital at UCLA Medical Center accompanied by two of his other children, Christina, 19, and Patrick, 17.
Arnold, 63, appeared stressed and had a concerned look on his face as he escorted his two children back to the car.
Article continues below advertisement
Christopher, 13, suffered a collapsed lung and broken ribs during the accident which happened off a beach in Malibu, CA earlier this week.
He was rushed by ambulance to the Intensive Care Unit at UCLA, and is now said to be in stable condition and expected to make a full recovery.
Despite the recent scandal that rocked their family, both Arnold and his soon-to-be ex-wife Maria Shriver have been constantly at their son's bedside.