Amy Winehouse Cremated After Funeral; Says Dad: 'Goodnight My Angel'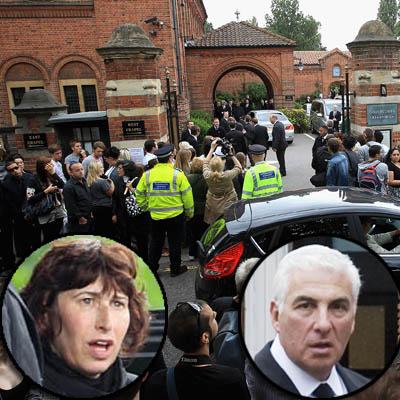 A large crowd of people gathered outside a crematorium in north London Tuesday where singer Amy Winehouse was being cremated following her funeral earlier in the day.
The cremation -- attended by Winehouse parents, other family members and close friends -- followed a private funeral service, held at nearby Edgewarebury Cemetery.
Reporters and fans besieged the entrance of Golders Green Crematorium as Winehouse's relatives and friends arrived for her cremation.
Article continues below advertisement
The Sun reported that some of the singer's ashes will be scattered with those of her beloved grandmother Cynthia, who died of lung cancer five years ago.
The 5-time Grammy winning artist is said to have idolized her grandmother, and even had her name tattooed on her arm.
Although the funeral was private, we're learning new details about the service itself.
The BBC reporrs that Winehouse's father Mitch read a eulogy that ended with the words: "Goodnight, my angel, sleep tight. Mummy and Daddy love you ever so much."
According to a family spokesman, Mr. Winehouse "told some great stories from childhood about how headstrong she was".
"He stressed so many times she was happier now than she had ever been and he spoke about her boyfriend and paid tribute to a lot of people in her life."
The service, which was led by Rabbi Frank Hellner and included prayers in English and Hebrew, ended with a rendition of the Carole King song So Far Away.
Article continues below advertisement
Mr. Winehouse said the song had been a favorite of Amy's and that they had often sung it together.
A family friend Alfie Ezekiel, 55, from Essex, told the BBC that between 300 and 400 people attended the service.
Ezekiel said the service had been "joyful" and "very moving" and had "celebrated" the 27-year-old singer's life.
Among those paying their respects -- Winehouse's good friend, Kelly Osbourne -- who wore a beehive hairstyle, which was the singer's trademark look.
Music producer Mark Ronson ( brother of Samantha Ronson), who worked on Winehouse's smash album, Back To Black, was also there.
As RadarOnline.com has previously reported, Winehouse was found dead Saturday at her flat in London. She was 27. An autopsy performed Monday was inconclusive as to the cause of death and results of toxicology tests won't be back for 2-to-4 weeks.
Although Winehouse had a well documented battle with addiction, police have said no drugs were found in her home.