Seattle Cops Leave Rifle Unattended On Squad Car!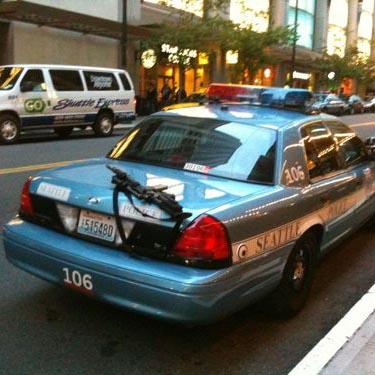 by RadarOnline.com Staff
This would never happen on NYPD Blue.
Seattle police officers left a police rifle -- unattended – on a patrol car outside of a busy downtown area this week, and a passerby snapped a photo of it.
Seattle police spokesman Sgt. Sean Whitcomb says the department is embarrassed by the incident, and it's launched an investigation.
"There is a chain of command investigation that will look into the circumstances that contributed to this incident," Whitcomb told seattlepi.com. "Just the fact that the rifle was left on a patrol car unattended is embarrassing, and people should expect more from the Police Department."
Article continues below advertisement
Whitcomb says two passersby spotted the rifle on the parked squad car. One man flagged down bicycle officers to notify them, while a woman followed the squad as it drove through downtown Seattle and tracked down the officer after the car parked.
The spokesman said the gun was not in tactical ready mode, but he is not certain whether it was loaded. That will be part of the investigation, he said.
The alternative weekly The Stranger first reported the incident, posting a picture that shows the rifle sitting on top of the squad's trunk.