Exclusive
EXCLUSIVE: Federal Agents Foil Plot To Kill Three U.S. Senators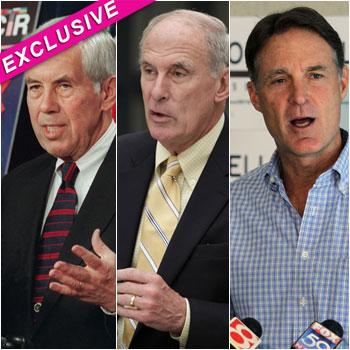 Senior Executive Editor Star Magazine
Federal agents foiled a plot by a Vietnam veteran to assassinate three United States senators because he was angry about the Department of Veterans Affairs' treatment of him.
In a criminal complaint obtained exclusively by RadarOnline.com, law enforcement agents have revealed how James Puchtel, 58, from Linton, IN, made a series of threatening phone calls to VA staffers on February 2, including a recorded phone call in which he said he "wanted to kill" Senator Richard Lugar, Senator Dan Coates and former Democratic Senator Evan Bayh.
Article continues below advertisement
Federal agents said they disrupted Puchtel's plans to go to the lawmakers homes and shoot them "with a rifle as they came out of their house."
However, agents from US Capital Police, FBI, U.S. Marshals and Veterans Affairs Police Department all interviewed him. Responding to the threat, the Greene County Sheriff, Terry D. Pierce, also dispatched a SWAT Team to Puchtel's home.
The details of the February incident had been kept secret until RadarOnline.com obtained a copy through a Freedom of Information Act request.
The investigation into Puchtel began in early February, when a VA staff member notified law enforcement that the man, who had been calling a hospital for months, had begun making overt threats to kill the senators.
In one conversation, according to the police file, he told a hospital worker he wanted to kill the senior senator from Indiana, Lugar, the junior senator from Indiana, Coates, and ex Democratic senator for Indiana, Bayh, because they had not helped Puchtel "get the medical treatment that a veteran deserves."
Article continues below advertisement
In another message, the veteran told a staffer: "You are the sorriest excuse for a (redacted) that I have ever seen. You think you are so smart, but you are nothing but uncaring and unhelpful... I am going to make a trip to Indianapolis and confront you face to face and I guarantee I will be the only one walking away unhurt."
At the end of Puchtel's message, "he laughed for about 30 seconds and stated, 'you wait, you are going to get what is coming to you,'" the concerned employee reported to investigators.
It was during a follow up phone conversation that he announced plot to assassinate the politicians, according to the documents.
"Puchtel stated he is very upset with the VA Hospital and the U.S. Government in the way he has been treated," it said.
"Puchtel stated he has been looking for medical help from the VA and has been turned away."
On February 3, Puchtel was detained by US Capital Police and FBI agents and placed on an immediate detention order for a mental health evaluation.
Article continues below advertisement
"Puchtel was evaluated... and found not to be a threat to himself or others and could be released after a medical evaluation."
Speaking exclusively to RadarOnline.com, Puchtel insisted he never threatened to assassinate the politicians and blamed it on a supposed Department of Veteran Affairs conspiracy.
"I served my country faithfully and honestly and don't deserve to be treated like this," Puchtel said, in an interview from his home.