VIDEO: Miracle Congresswoman Gabrielle Giffords Smiles & Recognizes Me, Says Hubby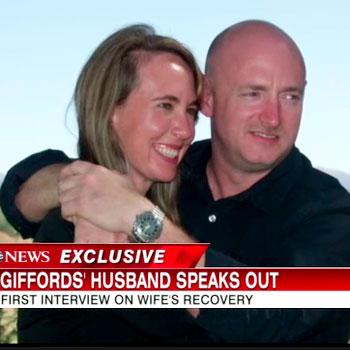 It's been just over one week since Congresswoman Gabrielle Giffords was shot in the head outside of a grocery store during a political rally in Tuscon, Arizona.
Giffords' husband of three years, US Navy captain and astronaut, Mark E Kelly, has kept a vigil by his wife's bedside at the Tuscon University Medical Center ever since, barely leaving her for one minute.
In an exclusive interview with ABC's Diane Sawyer that airs tonight, Kelly opens up about his wife's recovery, his optimism for her future and how, even though she is battling for her own life she still manages to look out for other people.
Article continues below advertisement
Kelly says that he has seen Giffords smile and that he is convinced that she is definitely able to recognize him, explaining: "Yesterday she started playing with my wedding ring.
"I hold her hand and she starts playing with my wedding ring. She will move it up and down my finger and she will take it off and she'll put it on her own finger, then she'll move it to her thumb, then she'll put it back on my finger.
"And the reason why I know she recognizes me is that she's done that before."
He goes on to say: "She stuck her hand up the side of my face this morning and I leaned over and she spent ten minutes giving me a neck massage.
"I'm pretty sure she wouldn't do that for somebody else – and she's looking me in the eye. It's so typical of her. No matter how bad the situation is for her she's looking out for other people."
Article continues below advertisement
Doctors have called Giffords recovery so far 'miraculous.' The 40-year-old Democrat has undergone emergency surgery to extract skull fragments and a small amount of necrotic tissue from her brain. In addition, part of her skull has been removed to avoid further damage to the brain from pressure caused by swelling.
Yesterday doctors operated on Giffords' eye socket to remove bone fragments that were lodged there – and revealed that her condition has been upgraded from critical to serious.
EXCLUSIVE DOCUMENTS: Newly Released Police Reports On Jared Loughner And Family
13 other people were injured during the January 8 shooting and six people died. The shooting suspect, Jared Lee Loughner is currently being held without bail in a Phoenix, Arizona federal prison.
You can watch the full interview with Giffords' husband Mark E Kelly, on a 20/20 special, The Congresswoman and the Astronaut: An American Story of Love and Strength, Tonight at 10/9 central on ABC.