Exclusive
Rihanna Facing Another S & M Lawsuit From Second Photographer – Accused Of Stealing Ideas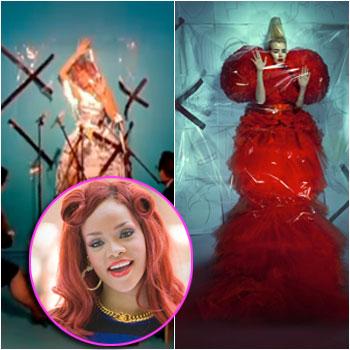 By Leah Ornstein - Radar Style & Beauty Editor
&
By Jen Heger - Radar Legal Editor
They say imitation is the sincerest form of flattery, but when it comes to Rihanna there's a couple of photographers who would beg to differ.
The singer is facing another lawsuit over copyright infringement for her music video S & M – this time by photographer Phillip Paulus, RadarOnline.com is exclusively reporting.
EXCLUSIVE DOCUMENT: Photographer Announces Intention To Sue Rihanna
Article continues below advertisement
The internationally renowned fashion photographer alleges that Rihanna used his fashion series of photographs called Paperworld in her music video, without permission. Paulus says that the video is identical to his set and staging in his pictures.
As Radaronline.com previously reported, Rhanna has already been sued once for the racy and controversial video. Another famed photographer, David LaChapelle, slapped the singer with a lawsuit in February, alleging that eight sequences in the S & M video were directly stolen from his photographs.
The photographs from Philip Paulus' Paperworld spread, depict a model in a poofy gown trapped against a wall by a sheet of plastic, surrounded by big X's made out of black tape. In her video, Rihanna also wears a big dress and is constricted by a layer of plastic against a wall, with nearly identical X's around her.
Paulus' lawyer says: "For legitimate reasons the use of copying Paulus' work over a million times requires an agreement that protects the copyright and the achievements and creations of our client which has never been given by our client, neither to the artist Rihanna nor to her label Universal Music. According to this, the copyright laws of our client has been infringed and the worldwide million-wise exploitation of the video 'S&M' is unlawful."
Article continues below advertisement
And that: "because the extrajudicial settlement agreements failed, Phillip Paulus, represented by his lawyer Jakober, will take legal action against Rihanna resp. Universal."
Meanwhile, the photographer himself says: "Why a worldwide celebrity is not able to afford a creative director, who creates individual concepts and staging's, is incomprehensible for me. To create new things within the creative cosmos, you can only expect this to come from a real genius, there is no doubt about that.
"However, in this case there is no real genius who created their own work instead they stole ideas from a creative talent. Furthermore every other creative professional should realize how supremely embarrassing it is to copy the work of colleagues from the artistic world and then to be praised for it."
Calls to Rihanna's rep and Universal Music for comment were not returned.
RELATED STORIES:
PHOTOS & VIDEO: Justin Bieber -- Looking For 'One Last Lonely Girl' In Paris