EXCLUSIVE COURT DOCUMENTS: Rihanna Sued By David LaChapelle Over 'S&M' Music Video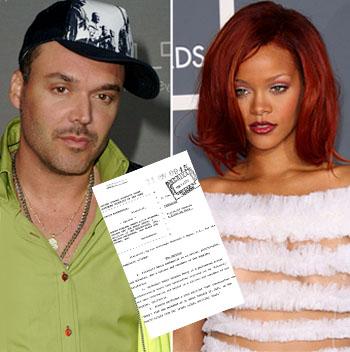 Acclaimed photographer David LaChapelle is suing pop singer Rihanna, her record label and a video director claiming his copyrighted images are the basis for her controversial new video, "S&M" and they were used without his permission.
EXCLUSIVE COURT DOCUMENTS: David LaChapelle Sues Rihanna Read the Lawsuit
In court documents filed in Manhattan Federal Court and obtained by RadarOnline.com, LaChapelle cites the similarities between his copyrighted work and the costumes and poses used in Rihanna's video alleging they were "willful, wanton and deliberate" acts of copyright infringement.
Article continues below advertisement
The lawsuit goes into detail using the LaChapelle's copyrighted image "Latex" as an example -- noting a portion of the Rihanna video shows the left side of the singer's face "against a blue background, wearing false eyelashes and close-fitting, shiny, pink latex hood, with her mouth open and placing a small candy on her tongue" - a striking similarity to his work.
LaChapelle also claims that director Melina Matsoukas was "asked by Rihanna or persons acting on her behalf to create a LaChapelle-esque music video" and that "prior to the hiring of Matsoukas, another well-known director was asked to create a LaChapelle-esque inspired music video for Rihanna and that director rejected the offer."
In addition, LaChapelle alleges that " the storyboards used for the Music Video consisted of or contained prints of the LaChapelle Works or other LaChapelle photographs."
LaChapelle, who has directed Jennifer Lopez, Christina Aguilera and Britney Spears, charges up to $1 million to direct/produce a music video and says this lawsuit is strictly business.
"This is not personal, strictly business. Musicians commonly pay to sample music or use someone's beats and there should be no difference when 'sampling' artist's visuals. I really like Riri - we've actually worked together before. I think about her everytime I'm caught in the rain without my umbrella."
Article continues below advertisement
As RadarOnline.com first reported, Twitter was abuzz earlier this month with accusations that Rihanna blatantly ripped-off LaChapelle in her much talked about music video, S&M.
The new music video premiered on February 1st, causing quite an uproar due to its highly provocative nature and has since been banned in 11 countries.
LaChapelle is seeking over $4 million in damages as well as attorney fees and costs of the lawsuit.