Rihanna Accused Of Ripping Off Famed Photographer In S&M Video -- See The Photos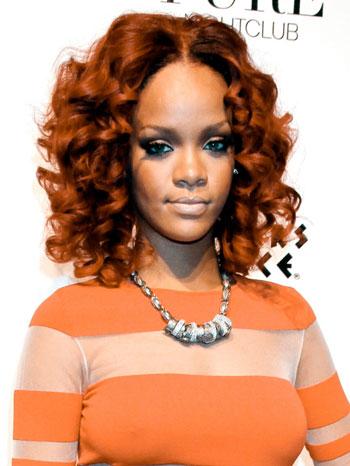 Twitter has been abuzz with accusations that Rihanna has blatantly ripped-off famed photographer David LaChapelle in her much talked about music video, S&M.
The new music video, which was directed by Melina Matsoukas, premiered on February 1st, causing quite an uproar due to its highly provocative nature and has since been banned in 11 countries.
A source within LaChapelle's studio tells RadarOnline.com exclusively that the photographer has worked previously with the songstress, but he was definitely not involved in any way with this project.
Article continues below advertisement
The source says that they became aware of the similarities between the video and LaChapelle's work when staffers who handle his fan page, Twitter, and Facebook account called them to tell them they were receiving a lot of messages regarding the video.
"Interns told us that fans were buzzing about the video and wanting to know if David had directed it," the source told RadarOnline.com. "Then the phone in the office started ringing off the hook, everyone was like 'wow it's amazing – it's the exact same.'"
The source said that they were completely unaware up to that point that the video was so heavily styled around what appears to be LaChapelle's photography.
In a side-by-side comparison between LaChapelle's previous work and screen captures of the Matsoukas directed music video, the similarities are indisputable - with nearly identical sets, scenarios, and styling.
The source claims that Matsoukas had photographs from past Italian Vogue shoots by LaChapelle, ranging from 1995-2002 laying around the set of the music video shoot. And the evidence does appear overwhelming.
MORE ON:
hollywood happenings
Article continues below advertisement
In one scene Rihanna is seen leading a man, who is crawling on his hands and knees, by a leash – a pretty much exact match to a previous LaChapelle Vogue photo.
In a bizarre twist, RadarOnline.com has learned that the man portraying a dog in Rihanna's video is no less than celebrity blogger, Perez Hilton!
And, perhaps Perez wasn't too pleased with the finished product, he later tweeted : "The next time you make a David LaChapelle music video you should probably hire David LaChapelle." Ouch!
LaChapelle's work is noted for it's surreal, unique, sexualized, and often humorous style and has been described as grotesque, shocking and ironic.
He landed his first professional gig when Andy Warhol offered him a job as a photographer for Interview after meeting him at Studio 54 where he was working at the time.
Over the years LaChapelle has worked on all the great fashion magazines, as well as publishing four books of his works, featuring portraits of celebrities such as Courtney Love, Britney Spears, David Bowie, Whitney Houston, Pamela Anderson, Madonna and even Rihanna herself!