Exclusive
New Documentary Paints Princess Diana Death As 'An Unlawful Killing'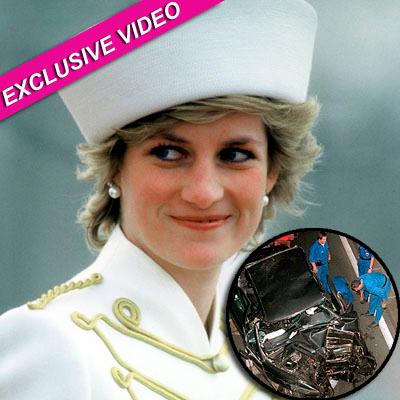 by RadarOnline.com Staff
The tragic deaths of Princess Diana and Dodi Al Fayed in 1997 stunned the world and an inquest into the fatal car crash is the subject of a controversial new film called Unlawful Killing.
In this exclusive clip obtained by RadarOnline.com, a closer look is taken at the results of the 2007-2008 inquiring into the accident.
The movie's director Keith Allen, the father of pop star Lily, presents evidence that the car crash in Paris was determined to have been NOT an accident by the jury at the official inquest in the Royal Courts of Justice, although that verdict was available to them.
Article continues below advertisement
In fact, the ruling by the jury of eleven people after deliberating for over a week at the inquest was "unlawful killing." Unlawful killing is defined as manslaughter or homicide.
The movie, financed by Mohamed Al Fayed, the father of Dodi, Diana's boyfriend at the time, also shows the controversial "death photos" of the Princess, one of the reasons the film was banned in Great Britain.
Journalist Piers Morgan, currently the host of his own prime time show on CNN, said: "I thought it was a very strange inquest from a legal procedural point of view. The guy presiding over it announcing de facto from the start this is not a murder. Shouldn't that be left up to the jury?"
Michael Mansfield, the counsel to Al Fayed during the inquest said: "you have a verdict which the public and the media have always misconstrued. It wasn't a verdict of an action, they chose unlawful killing, they specified it related in part of following vehicles. What we know the following vehicles were not the paparazzi. That's not right."
Article continues below advertisement
After the outcry about the photos at the Cannes Film Festival this year the director said: "there won't be a sharp intake of breath when you see the photograph of Princess Diana. It is nowhere near as sensational or revealing as people made it out to be. She could well have had her life saved if certain steps had been taken."
Attorney Mark Lane, author of the world-wide best-selling book on the assassination of JFK, Rush to Judgment, recently viewed the movie and said he was "amazed" and wrote an essay defending it. He said that the documentary demonstrates that evidence was covered-up and the truth distorted, according to the NY Daily News.
Lane said the paparazzi trailing the car were not responsible for the accident and that the driver of a white Fiat with alleged ties to the MI6 intelligence agency was the culprit.