Exclusive
Happy Birthday! Prince William Turns 29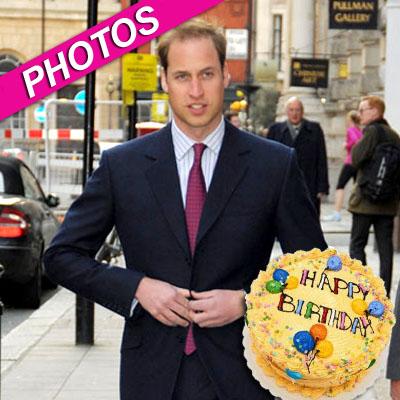 RadarOnline.com Senior Reporter
Happy birthday your Royal Highness!
The future King of England turns 29 on Tuesday, and RadarOnline.com has a special photo gallery of the prince through the years, marking his majesty's milestone.
William was born on June 21, 1982 just a year after his parents, Prince Charles and Princess Diana, walked down the aisle.
Growing up in Kensington Palace with his little brother Harry, William's mother Diana tried to give him a normal life, sending him to school instead of home tutoring and taking him on fun trips to Disney World, but also having him participate in charity events at a young age.
Article continues below advertisement
After his mother's tragic death in 1997, William, Harry, Prince Charles and Diana's brother Charles Spencer marched behind Diana's coffin in the funeral procession.
William went away to St. Andrews University in 2001 where he met his future wife, his classmate Kate Middleton, who is six months younger than the prince.
In 2009, William joined the Royal Air Force and even landed a helicopter in the back yard at Kate Middleton's parents home in Bucklebury to impress his girlfriend.
He proposed to Kate in October of 2010 and made the announcement on November 16, showing off his mother Diana's sapphire and diamond ring that he gave to his fiancée.
The couple tied the knot on April 29, 2011 and immediately after the wedding William returned to work for a few days before he and his wife honeymooned in the Seychelles.
William and Kate currently live in a small rented cottage in Wales but the couple is reportedly planning to move back to Kensington Palace, William's childhood home.