VIDEO: Jon Cryer: 'I Love Charlie Sheen .. I Want Him To Stay Sober'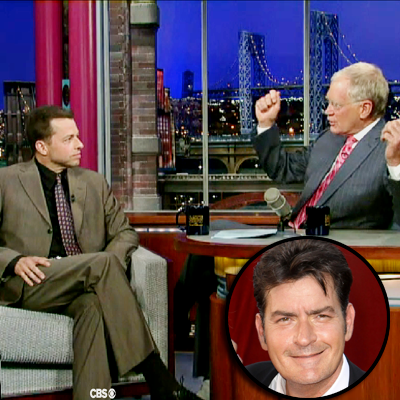 Two and a Half Men's Jon Cryer has nothing but love for his former co-star, Charlie Sheen, in the wake of his bizarre and very public meltdown.
On Wednesday night's Late Show with David Letterman, Cryer said: "I love him, he's a great friend."
"He called you names, he called you a troll," Letterman said, to which Cryer replied, "Yes -- as friends do!"
Watch the video on RadarOnline.com
As for Charlie's meltdowns in which he bragged about drug abuse, called out his boss and went on a series of bizarre, stream of consciousness rantings?
Article continues below advertisement
"Nobody was prepared for this, I didn't see it coming, no one did," Cryer said of the series of events. "None of us wanted to continue with the show if we felt it was hurting him, and there was a point when everyone felt like ... there was no control here."
Cryer said that "when the show was temporarily shut down, it was the end of the world for some people. There are a lot of fans of the show ... and when we shut down, it hit people hard."
Cryer said he's pulling for Sheen to rebound in his personal life, as he wants "him to get healthy.
"I want him to stay sober, I want him to be reunited with his family: That would be the best thing."
Looking forward, Cryer joked about an interesting exchange with Charlie's replacement, Ashton Kutcher, when they recently boarded a CBS corporate jet to meet with advertisers.
As they boarded, Cryer said Kutcher told him, "You know what I love about private jets: You can bring knives on board!"
Article continues below advertisement