Done Deal! Ashton Kutcher In, Charlie Sheen Out On Two And A Half Men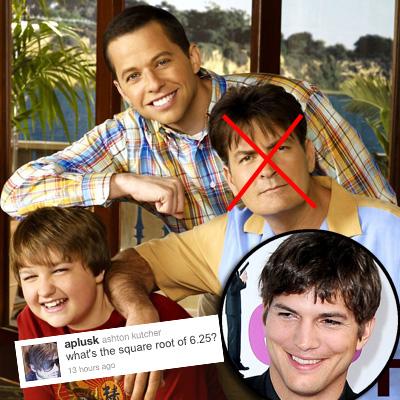 Ashton Kutcher dropped a big hint on his Twitter page late Thursday, asking, "what's the square root of 6.25?"
We did the math: it's two and a half.
With that being said, Kutcher is the apparent heir to Charlie Sheen's throne on CBS' lynchpin sitcom Two and a Half Men, Deadline Hollywood reported as a done deal late Thursday. This after the Hollywood Reporter claimed both sides were putting the finishing touches on the deal.
Article continues below advertisement
Kutcher's salary is rumored to be around $1 million per show, according to the Wall Street Journal. Sheen was making a record $1.25 million per episode, although with backend profits, it's been estimated his salary was closer to $2-and-a-half million per episode.
According to Hollywood Today, the show's executive producer and creator Chuck Lorre coveted actor Hugh Grant to fill the role as well, but the English hunk's $1.8M asking price likely put Kutcher as the front-runner.
According to the Deadline Hollywood report, Lorre has been slaving away on a new storyline that would make the transition from Sheen, 45, to Kutcher, 33, seamless.
Lorre, whose public feud with Sheen ultimately caused the show's temporary shutdown, was only willing to continue if he could "find the right actor and get excited about that," and that it was someone he had confidence he "can work with," an insider told the website.
Article continues below advertisement