VIDEO: Late Night Comics Feast On Arnold's Baby Scandal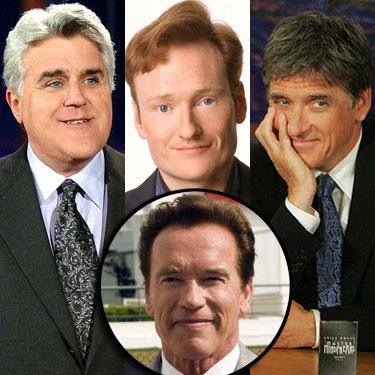 Arnold Schwarzenegger took more hits than a piñata on Tuesday night, as a few late night comedians wasted no time in crafting jokes about the married Governator having an illegitimate son with his former housekeeper, Mildred Baena, also known as Patty.
"Hasta la vista, it's my baby!" joked Jay Leno, who added that "we found Osama bin Laden before we found Arnold's love child!"
Over on TBS, Leno's rival Conan O'Brien let loose on the Terminator star with equal aplomb.
Article continues below advertisement
"This might explain his campaign promise to leave almost no child behind!" O'Brien joked. "Supposedly Arnold's fathered the child with a household servant ... so now he's made two Juniors that he doesn't want to talk about," in reference to Schwarzenegger's mid-90s comedy.
O'Brien said Schwarzenegger told his estranged wife Maria Shriver "about it at the time, but it took her this long to figure out what the hell he was saying!
"Arnold's kept this secret for 10 years -- so the real shock is, maybe he's a good actor after all!"
Craig Ferguson kept the comedy train rolling.
"Apparently the woman who Arnold got pregnant was an employee -- I don't know what she did, but apparently, she worked on Arnold's staff!" he joked.
Ferguson noted that Schwarzenegger has lived up to his parental responsibilities with the boy, as "he's been providing health care and education -- the same stuff he took away from every other child in California when he was the governor!"
Article continues below advertisement
Also noteworthy is who wasn't joking about the scandal on Tuesday: David Letterman and George Lopez. (Perhaps their shows were taped prior to Arnold's confession).
As RadarOnline.com and Star magazine reported in their joint investigation, Baena, 50, worked for the A-list duo at their mansion in the posh Brentwood neighborhood of Los Angeles for 20 years. She was pregnant with the boy, 14, at the same time Maria was carrying her youngest child Christopher Sargent, 13.