VIDEO: Christina Aguilera's Son Max 'Very Protective' Of Mommy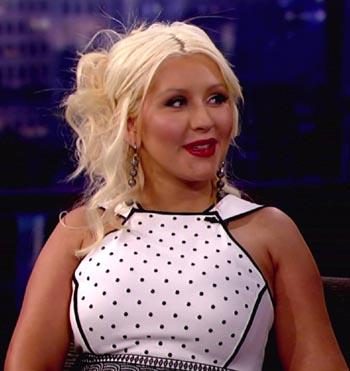 Call him Mad Max.
Christina Aguilera, appearing on Jimmy Kimmel Live! Thursday night , said her 3-year-old son Max is quite protective of her, and isn't afraid of telling people, "Don't touch my mommy!"
The What A Girl Wants singer, 30, said her son hasn't quite absorbed the fact that his mom's job is very different.
"He's very protective ... when I'm getting my makeup done, he's like, 'No! Don't touch!' ... he's very protective of momma.
Article continues below advertisement
"It will be interesting to see how he reacts when we go on tour," Aguilera said.
Watch the video on RadarOnline.com
"Will he come on tour with you?" Kimmel asked. "The 'Don't Touch My Mommy' Tour?"
Aguilera told Kimmel that Max is developing his musical chops, and has taken a special interest in playing the drums.
"Uh oh, that's what happened with Justin Bieber, you be careful!" Kimmel said. "The next thing you know, you'll be following him around the tour, saying 'Don't touch my baby!'"