EXCLUSIVE DOCUMENTS: Christina Aguilera & Boyfriend Arrested On DUI-Related Charges -- Read The Booking Reports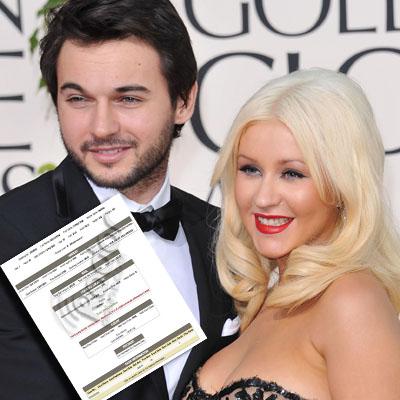 UPDATE: 9:12 am PT. Authorites say Aguilera was booked and fingerprinted and taken to a cell until she could sober up. They say a mug shot was taken of her, but that her mug shot will likely not be released since they have no intent to prosecute her. She was released at 7:30 am PT and was driven home by a friend. She does not have to appear in court in connection with the incident.
UPDATE: 9:10 am PT: At a news conference, authorities said Aguilera was "not belligerent" but was "not able to care for herself" when detained by authorities. They say they do not intend to prosecute Aguilera; instead, she will have a misdemeanor on her record.
Article continues below advertisement
Christina Aguilera and her boyfriend Matt Rutler were both arrested early Tuesday by authorities in West Hollywood on DUI-related charges, and RadarOnline.com has exclusively obtained their police booking reports.
Rutler, 25, was arrested and booked on suspicion of DUI while Aguilera, 30, a passenger in the car, was charged with public intoxication. Rutler is being held on $5,000 bail while Aguilera is being held on $250 bail.
Read Christina Aguilera's Booking Sheet
Read Matt Rutler's Booking Sheet
A source tells us that Aguilera was "severely intoxicated" and was taken to the Los Angeles County Sheriff's station at Santa Monica Blvd. and San Vicente in West Hollywood around 2:45 a.m. PT for observation.
Authorities tell us they detained the Beautiful singer and are holding her until she sobers up or someone can pick her up.
MORE ON:
Christina Aguilera
Article continues below advertisement
It's been a brutal six months for the Genie In A Bottle singer: the Burlesque star jumped on another singer's line and lost her footing during her performance at last month's Grammy Awards. Shortly before that, during the Super Bowl, she botched a key verse in her performance of The Star Spangled Banner, singing, "What so proudly we watched at the twilight's last reaming," when she was supposed to have sung, "O'er the ramparts we watched, were so gallantly streaming."