Kate Middleton's Family Kicks In $425,000 For Royal Wedding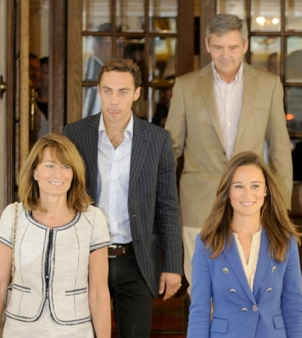 By Radar Staff
While the British taxpayers spent over $34 million for Kate Middleton's wedding to Prince William, don't assume her middle-class family got a free ride!
Michael and Carole Middleton, the bride's parents, spent $425,000 on the fiesta of the century!
And here are the details, according to the Mail on Sunday newspaper:
Booking 71 rooms at the Goring Hotel for friends and extended family, for two nights, set them back $144,500!
Article continues below advertisement
There were two parties at the Goring, one on the night before the wedding, and one after. For that, the Middletons plunked down $42,500!
FIRST PHOTOS: Prince William & Kate's Wedding Cake!
Kate's gorgeous bridal gown, and a second formal dress she wore at the receptions cost mom and dad $68,000. Then came the earrings that Kate wore during the ceremony, $25,500 for both ears.
The jewelry worn by mom Carole and Kate's smoking hot sister, Pippa, and the gold pins worn by dad and Kate's brother Michael cost $51,000.