Prince William & Kate -- Modern Royals Driving Toward The Future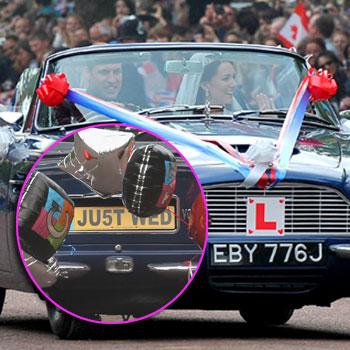 Prince William and his blushing bride Kate truly are modern royals.
Instead of taking yet another carriage ride after the ceremony, William and Kate jumped in a snazzy Aston Martin convertible complete with a license plate that read: "JU5T WED."
The couple was snapped driving away from Buckingham Palace and through the Mall in London on Friday afternoon as they waved to the thousands of people who lined the streets to wish them well.
Article continues below advertisement
On the front of the car was a large red letter "L" which stands for "learners permit."
As previously reported, the young lovers wed at Westminster Abbey as an estimated worldwide audience of 2 billion people watched. United at the altar at 11:11 a.m. local time, the duo exchanged vows at 11:20 a.m., after which the hunky royal slipped the ring on his bride's finger.
After the wedding, Queen Elizabeth II hosted a private luncheon for William and Kate at Buckingham Palace for 650 guests.