'Mr X' In Hotel Room Before Death Of AGT Contestant's Wife, Husband Claims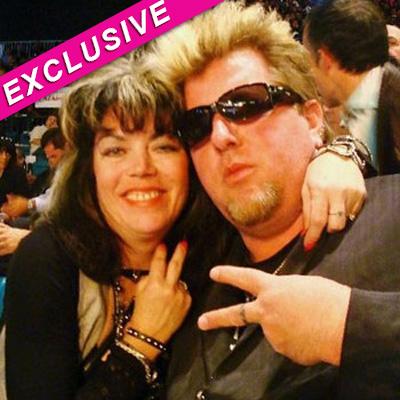 A man, believed to be a security guard, was inside an America's Got Talent contestant's wife's hotel suite shortly before she supposedly plunged down a staircase to her death.
That's according to Laura Finley's devastated husband Joe, who has insisted, again, that his was brutally murdered in the hours before he audition for the hit NBC show.
Police have declared the death was not at all suspicious, although the cause of death has never been declared an accident, homicide or suicide.
Article continues below advertisement
"I have first hand knowledge from a detective working on this case that a man was in our hotel suite before my wife died," Finley told RadarOnline.com about the so-called 'Mr X',' in an exclusive interview.
"This raises important questions that to date have gone unanswered: who was this individual, what was he doing inside the room, how he got inside the room and why was he there?"
Joe, who had been married to wife Laura for 26 years until her mysterious death in October, last year, has launched a website, 'Think of Laura,' to coincide with what would have been the woman's 49th birthday.
He's offering a $25,000 reward for key evidence that leads to a conviction.
"We are encouraging Biltmore employees with any info. Regarding this crime to please call our tipline," the website states.
"Also anybody from the Americas Got Talent auditions are encouraged to do the same.
"Until this MURDERER is apprehended, lives are at great risk."
Laura was found partially clothed, lying in the stairwell of the Millennium Biltmore Hotel in Los Angeles at 8.35am on October 23, 2010.
Article continues below advertisement
Police said she had fallen eight floors to her death.
Joe -- who police had considered a person of interest -- is now suing the hotel for wrongful death, as RadarOnline.com previously reported.
"The falling theory has been dispelled," Joe told RadarOnline.com, adding: "Laura did not have a single fractured bone in her body."
In the post-mortem examination report, which we exclusively obtained, the Department of Coroner Los Angeles County spelled it out in one cold, hard conclusion: Laura died of multiple blunt force injuries.
What's more, Laura -- who was also found at the bottom of a Los Angeles hotel stairwell -- had multiple abrasions, contusions and lacerations on her head, chin, neck, chest and back.
Said Joe: "I've had another medical examiner review the coroners' report and found it not consistent and extremely flawed. It goes so far at one point indicating Laura is a male.
"His observation of her body postition (which I believe was staged) would have caused Laura to break her teeth or bite through her tongue...these are facts not speculations."
Article continues below advertisement
In a previous interview, Joe told RadarOnline.com that he believed Laura was brutally raped, strangled and robbed before her body was moved to the bottom of the staircase to appear like she fell a number of floors.
He also revealed Laura was found without three expensive solitaire diamond rings.
In a statement to RadarOnline.com, Joe's lawyer said Laura had a "positive and radiant influence" over her family and a "zest for life."