EXCLUSIVE: America's Got Talent Death Autopsy Report Revealed -- Read It Here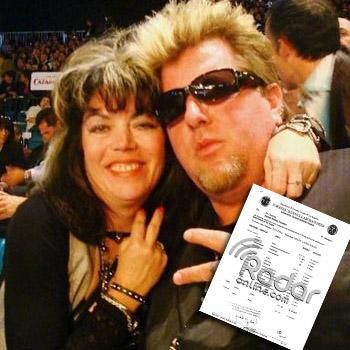 An autopsy report has officially determined the cause of death of the wife of an America's Got Talent contestant as trauma.
In the post-mortem examination report obtained exclusively by RadarOnline.com, the Department of Coroner Los Angeles County spelled it out in one cold, hard conclusion: 48-year-old Laura Finley died of multiple blunt force injuries.
Her skull separated from the spinal column during a severe head injury, the documents which you can read here revealed.
Article continues below advertisement
Laura had a one inch laceration on the top of her head and a "diagonal gaping laceration measuring three-and-a-half inches" on her scalp.
What's more, Laura -- who was also found at the bottom of a Los Angeles hotel stairwell -- had multiple abrasions, contusions and lacerations on her head, chin, neck, chest and back, it's reported.
She also had a subarachnoid hemorrhage that would have been sustained in an accident or a fall.
Laura's devastated husband Joe, who auditioned before judges Piers Morgan, Sharon Osbourne and Howie Mandel before learning of his wife's death, declared: "First and foremost the autopsy clearly shows that Laura was murdered."
In a lawsuit filed against the Millennium Biltmore Hotel, Joe said he believed a homeless person snuck into the venue and killed his wife on October 23, last year.
Joe is now suing the hotel for wrongful death, as RadarOnline.com previously reported.
Article continues below advertisement
The report also revealed Finley 1.5 ug/mL of Methylenedioxymethamphetamin, commonly known as ecstasy, in her blood along with 0.07 grams of alcohol.
Joe had previously told police he and his wife had a drug binge the night before his audition.
Speaking exclusively to RadarOnline.com, Joe said the documents were further evidence his wife's mysterious death was not an accident.
He has claimed that Laura was raped, robbed and strangled, and then her body was put at the bottom of the stairs to make it look like like she fell.
"Her body was found in the basement in a supine position," said Joe, who is still searching for answers despite police insisting Laura's death was not at all suspicious.
"Blunt force trauma to the head indicates that she was struck by her killer and her neck was broken.
"There were no other broken bones, it was in stage four rigor mortis, her top supposedly in the lost and found and her body pants on inside out."
Article continues below advertisement
Joe questioned: "The LAPD doesn't find that suspicious?"
Despite their belief, cops have never released the cause of death as an accident, homicide or suicide.
In the documents, it is also revealed hotel security last saw Laura at 3:30 am when she locked herself out of her room.
Said Joe: "Laura was found by patrons, say police. They went to management. Did they scream and run up to the lobby? Why were they down there? Why didn't they call 911? Why didn't the manager? Who instructed the caller to call and why? Who really discovered Laura's body.
"These are all pretty basic questions."
In a video message posted online, Joe accused law enforcement of botching the death probe.
"What if somebody were to suggest that her killer was at the crime scene when the police arrived," wrote Joe in a narrative posted to a song he wrote about Laura.
"Even further that he had been watching Laura for some time waiting for his opportunity to strike.
"As I slept, Laura's voice was forever silenced.
Article continues below advertisement
"Instead of notifying me of this heinous act, the LAPD decided to follow me for hours. Not until I made contact with HOTEL SECURITY did they approach me."
Radiology consultant Donald C. Boger, M.D., wrote in the autopsy: "There is atlanto-axial dislocation, with anterior dislocation of the atlas (C1) and complete closure of the spinal canal (the posterior arch of C1 is contiguous with the odontoid process)."