Maria Shriver 'Humbled By The Love'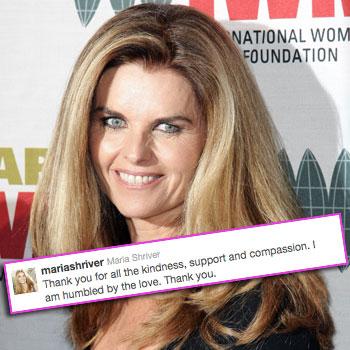 Radar Reporter
Maria Shriver is a class act.
Just four days after announcing that she is separating from her husband of 25 years, Arnold Schwarzenegger, Maria Shriver thanked her supporters.
"Thank you for all the kindness, support and compassion. I am humbled by the love. Thank you," she Tweeted on Friday.
The news of the Hollywood couple's split was shocking considering how strong their marriage seemed to be. Shriver, a Democrat from the Kennedy family, even stood by her husband as he ran for Governor of California. As a Republican.
Article continues below advertisement
But the sacrifices she made were too much for her to handle and she grew "angry" with Arnold.
"Maria LOVED her job, period," a source exclusively told RadarOnline.com. "She had been a journalist for almost 15 years. She had to give it up, and Maria has felt that Arnold has never made similar sacrifices for her. Yes, she became First Lady of California, but it wasn't a job she picked. She enjoyed the role, but missed her career that she chose," the insider tells us.