Knockoff Anyone? Kate Middleton's Wedding Dress Up For Grabs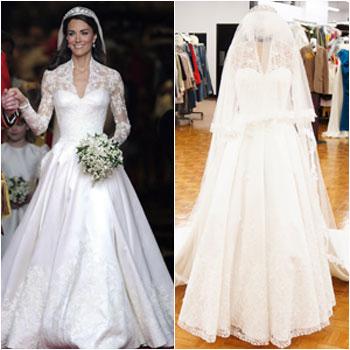 No need to marry a prince to look like a princess!
The ink on Prince William and Kate Middleton's marriage license is barely dry, and already wedding dresses inspired the bride's stunning lacy gown are being re-created by the USA's top bridal designers.
National brand David's Bridal and the Santa Monica, Calif.,-based A.B.S. by Allen Schwartz will both be selling Kate nuptial dresses at a fraction of the price.
Article continues below advertisement
"We are already working on a gown that was directly inspired by the one Kate wore for the royal wedding," Dan Rentillo, Design Director for David's Bridal, told RadarOnline.com.
A.B.S., meanwhile, is currently manufacturing gowns based on the original Sarah Burton dresses worn by both Kate and her hot sister Pippa during Friday's ceremony. They're expected in stores July.
Kate's hand-made dress cost $66,500 and Pippa's was $33,245. Yours? How does just a few hundred bucks sound?
"Kate's wedding dress will be priced from $400 to $800, while Pippa's is $300," an A.B.S. spokesperson said.
Some stores aren't so sure that the dresses will be a hit.
MORE PHOTOS: Sexy, Stunning And Shocking Fashions From The Royal Wedding
"No one has asked for it yet, not many people like the long, lace sleeves," said a sales consultant at Chicago's House of Brides.
RELATED STORIES: