Exclusive
Gretchen Rossi Wants Judge To Muzzle Ex-Boyfriend Jay Photoglou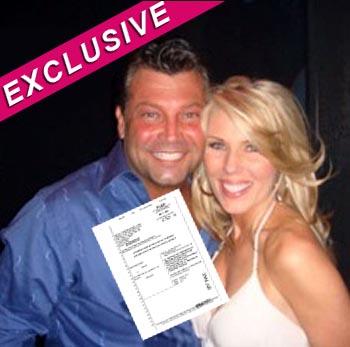 Gretchen Rossi of the Bravo hit television series, Real Housewives of Orange County, is asking a judge to muzzle her ex-boyfriend, Jay Photoglou from talking to the media about their ongoing legal battle, in which they are both suing each other for defamation, libel, among the claims.
EXCLUSIVE DOCUMENT: Gretchen Rossi Seeks Protective Order
Rossi is seeking a protective order which would prevent Jay from discussing or disclosing "any information obtained through pretrial discovery, including her deposition," the court docs state.
Article continues below advertisement
Photoglou vehemently opposes Rossi's latest legal maneuver, and his powerhouse attorney, Bryan Freedman, exclusively told RadarOnline.com: "Rossi has filed a motion for protective order. She seeks a protective order for all discovery she produces in this matter, including her deposition. We opposed the motion on numerous grounds including the fact that, while she seeks a protective order, she is simultaneously litigating the case in public and referencing to third parties (albeit inaccurate), statements allegedly made by Photoglou in his deposition."
The request is particularly offensive to Jay because "the protective order is patently unfair as it is one-sided and seeks to limit the public from knowing Photoglou's side of the story only. Since the PO only limits discovery, it does not prevent Rossi or her camp from continuing to spread vicious lies and private and personal information about Photoglou to the public," the motion states.
Rossi was ordered to pay over $40k in attorney's fees to Jay, and his lawyer said: "Rossi has failed to pay those attorney fees per the Court's order. She has snubbed her nose at the court order. Photoglou is in the process of taking further action against her to recover those fees, although it has yet to happen."
Article continues below advertisement