NEW PHOTO & VIDEO: 'Geronimo-E KIA!' -- The Final Moments Of bin Laden's Life & The Tension In The White House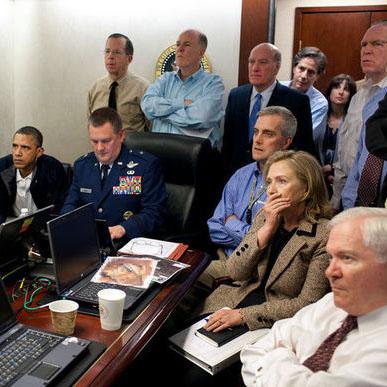 The White House has released a new photo showing the tense atmopshere in the Situation Room on Sunday as President Obama waited, along with other top White House officials, for definitive word of Osama bin Laden's death.
Meanwhile, a report by ABC News is providing yet more details of the very last moments of the life of the 9/11 mastermind, who was fatally shot in the head by U.S. Navy SEAL troops, nearly 10 years after the fall of the World Trade Center.
Article continues below advertisement
Here's the latest breaking details on how bin Laden's capture went down:
After some technical glitches involving one of the helicopters, 24 Navy SEAL Team Six troops invaded the spacious Pakistan hideout.
The troops faced a 40-minute firefight from two of bin Laden's couriers in the compound, which was overheard by neighbors in the area.
The troops made it upstairs and found bin Laden, shooting him twice: once in the chest and once in the head. The terrorist, responsible for the deaths of thousands, was taken down with what the military calls a "precision kill shot," as the bullet pierced him right above the left eye.
Following the Excalibur moment, the Navy SEAL reported, "Geronimo-E KIA!" (meaning Enemy Killed in Action) to his commanders, confirming bin Laden's death.
As previously reported, a woman (who was being used as a shield) and three men were also killed in the firefight, leaving five dead in all.
PHOTOS & VIDEO: Americans Celebrate bin Laden's Death
Between 12 and 15 others on the premises were flex-cuffed, as the troops recovered bin Laden's body, as well as computer software, from the compound.
Article continues below advertisement
The troops took bin Laden's corpse onto one of the helicopters and departed the area.
Bin Laden was subsequently taken to the USS Carl Vinson, wrapped in white sheets, and lowered into the Arabian Sea at sea via Islamic practice carried out by a Muslim sailor.
The commander-in-chief didn't want to bomb the compound because he wanted bin Laden's body to prove the 9/11 terrorist had been disposed of. ABC reported there are assorted images and video of the mission, body and burial that the president is debating about releasing, as a response to skepticism bin Laden was actually killed.
Mr. Obama plans to visit Ground Zero on Thursday and meet with the families of survivors of the 9/11 attacks.
Bin Laden, according to new reports, was living in the area for as many as six years.
Watch the video on RadarOnline.com