Trump To Obama: 'Job Well Done!'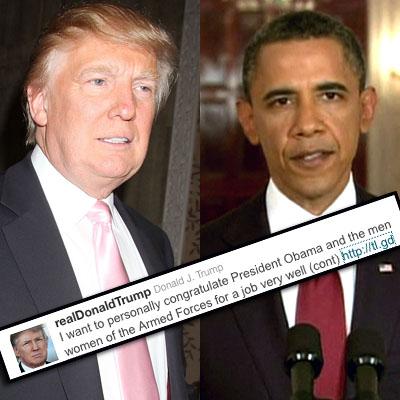 Donald Trump has been the most outspoken critic of Barack Obama in recent weeks, but he quickly congratulated the President for a "job well done," after it was announced that public enemy number one Osama bin Laden had been killed.
"I want to personally congratulate President Obama and the men women of the Armed Forces for a job very well done," Trump tweeted on Monday on Twitlonger.com.
Article continues below advertisement
"I am so proud to see Americans standing shoulder to shoulder, waving the American flag in celebration of this great victory. We should spend the next several days not debating party politics, but in remembrance of those who lost their lives on 9/11 and those fighting for our freedom. God Bless America."
The Celebrity Apprentice star and possible presidential candidate has been in the midst of the controversy over Obama's birth certificate.
VIDEO: Osama bin Laden Dead; President Obama Says 'Justice Has Been Done'
After the White House released the document, Trump said the president "should have done it a long time ago," RadarOnline.com previously reported. "I am really honored to play such a big role in hopefully, hopefully getting rid of this issue," said the reality star.
As previously reported, here's how bin Laden's capture went down:
Article continues below advertisement
After CIA honed in on bin Laden's whereabouts early Monday in Pakistan -- around Sunday afternoon in the states -- four helicopters containing Navy SEAL Team Six troops stormed the hideout, an unnamed U.S. official told the AP.
Upon landing, the troops faced a 40-minute firefight from bin Laden and others in the compound; bin Laden was fatally shot in the head in the ensuing battle. A woman (who was being used as a shield) and three men, including one of bin Laden's sons, were also killed in the firefight.