Brooke Mueller To Charlie Sheen: 'Stop Talking Smack About Me!'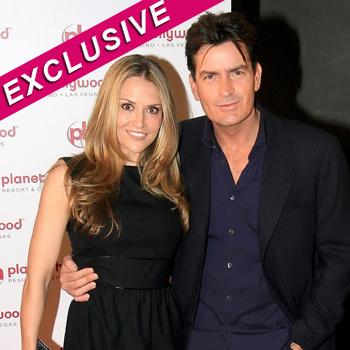 By Jen Heger
Charlie Sheen has been trash talking Brooke Mueller, and she isn't one bit happy about it.
The ex-Mrs. Sheen may take her former spouse to court next week if he continues to bad-mouth her to media, a source close to the situation tells RadarOnline.com exclusively.
"Brooke is closely monitoring what Charlie is telling the press, and most importantly, their twin sons, Bob and Max about her," the source says.
Article continues below advertisement
"Under the terms of their divorce settlement, Charlie isn't allowed to publicly speak about Brooke in any negative way, and Mueller is convinced he is violating that agreement. Charlie is saying thing that she believes are an attempt to make her look like a bad mother and she's had enough of it."
Reports circulated Saturday morning that the former Two and a Half Men star was teaching Bob and Max to say the word "rehab, so they always know where their mom is."
Brooke was shocked when she learned of it.
"Brooke spends her nights at home with the boys," the source explains. "She is in an outpatient rehab program that allows her to be at home at night. She has her sober living companion there with her and her parents are helping her too. She feels it is outrageous for Charlie to be joking about her being in rehab in front of their kids."
PHOTOS & VIDEO: Charlie Sheen Arrives To Court With One Of His 'Goddesses'
MORE ON:
Two and a Half Men
Article continues below advertisement
Sheen has two-year-old twins Bob and Max this weekend, it is his first visitation with them since his recently completed My Violent Torpedo of Truth/Defeat Is Not an Option tour. "Brooke has been with the boys every day, and she can't believe that the first thing Charlie does when he sees them is to attempt to make her into a bad mother.
"If he keeps it up, she's going to court to stop him."
RELATED STORIES: