Backstreet Boy Buys Lindsay Lohan Vampire Photo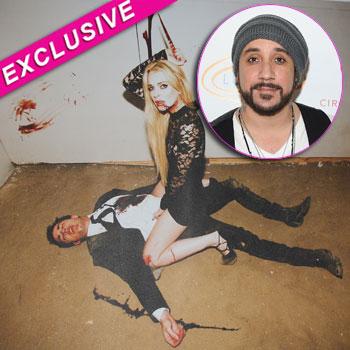 RadarOnline.com Staff Reporter
Backstreet Boy A. J. McLean has taken a bite out of Lindsay Lohan - by splashing out thousands of dollars on one of her sexy vampire images taken by celebrity photographer Tyler Shields.
The pop star paid big bucks for the blood soaked image of Lindsay sitting on top of Vampire Diaries star Michael Trevino with a wooden stake in her hand.
McLean fell in love with the image after it was shown at Shields art exhibition in Los Angeles at the weekend which Lohan also attended.
Article continues below advertisement
Click on the link to see Lohan's sexy vampire.
Shields told RadarOnline.com: "A. J. paid between $30,000 and $40,000 for the large print of Lindsay with Michael Trevino. I was really thrilled with how the exhibition went and we sold a lot of my images on the night including one of Diana Agron from Glee, Emma Roberts and actors Spencer Falls and Sarah Carroll.
"This is what I do for a living and my subjects do not get a cut of any sales generated just a lot of exposure by being photographed by me. Hopefully, I will work with Lindsay again and she was thrilled with the results of our latest collaboration."
Lohan controversially previously posed for Shields with a gun to her head – in these latest sexy vampire theme images she is seen smiling with her sharp fangs seductively showing.
Lindsay will be in a Los Angeles County courtroom Wednesday morning for the start of the now-misdemeanor theft case against her.
Come back to RadarOnline.com for all the details.