THE WEEK IN PHOTOS: Charlie's Tour Continues, Gaga Takes A Fall & Cameron Stands By Her Man!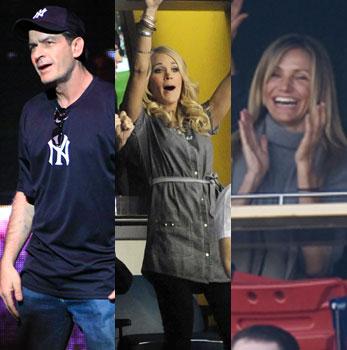 Charlie Sheen performed on his 'My Violent Torpedo of Truth' Tour in New York City on Friday night at Radio City Music Hall, getting booed even though he was wearing a New York Yankees t-shirt.
Carrie Underwood cheered on her husband Mike Fisher during the NHL hockey game between the Nashville Predators and the Columbus Blue Jackets.
Playboy head Hugh Hefner and his son Marston celebrated their birthdays with a Playboy cake at The Palms in Las Vegas.
Article continues below advertisement
Sports Illustrated Swimsuit Issue cover girl Irina Shayk showed off her sexy curves as she modeled for Miami Designer Luli Fama's 2011 swimsuit collection.
Cameron Diaz sat in a luxury box with other New York Yankee wives and girlfriends, cheering on their men against their rival Boston Red Sox during a weekend series at historic Fenway Park.
Hilary Swank flaunted her million dollar body on the idyllic shores of Oahu, Hawaii. The 36-year-old double-Oscar winner showed off her athletic physique in a pink bikini, as she chatted on her cell while walking on the sandy shores.
After a poorly-received Friday night show in New York got him Bronx cheers, Charlie Sheen rebounded in his second performance at Radio City Music Hall on Sunday, getting a pair of standing ovations. Instead of wearing his usual baseball jersey, the former Two and a Half Men star, 45, donned an FDNY shirt in tribute of the authorities who lost their lives on September 11, 2001.
Article continues below advertisement
Chaz Bono and his girlfriend Jennifer Elia sealed their love with a kiss at the GLAAD (Gay and Lesbian Alliance Against Defamation) Media Awards in Los Angeles on Sunday afternoon. Chaz and Jennifer -- who've been together for five years -- walked the red carpet at the star-studded event at the Westin Bonaventure Hotel in L.A.
Broadway beauty Kristin Chenoweth received the Vanguard Award at GLAAD's (Gay & Lesbian Alliance Against Defamation) 22nd annual Media Awards at Los Angeles' Westin Bonaventure Hotel on Sunday, where the stars came out en mass. Chenoweth received the honors for taking a public stand for gay actors in their ability to to play straight roles.
Domenico Dolce and Stefano Gabbana threw Justin Bieber a fashionable fete over the weekend in Milan. "We are very happy of Justin Bieber's success because he is the symbol of a new kind of popularity," the designers explained in a joint statement.
MORE ON:
Kristin Chenoweth
Article continues below advertisement
For being separated, Scream 4 co-stars David Arquette and Courteney Cox looked happy and comfortable with one another at Monday's premiere of the film at Hollywood's legendary Grauman's Chinese Theater. The couple, both dressed in black, posed on the red carpet with co-star Neve Campbell, and did not look to have any sort of the drama that accompanied a Tinseltown split.
Lady Gaga suffered a frightening fall during her concert in Houston, though she was thankfully was not injured. Gaga, singing You & I, was attempting to balance herself between her piano and its' bench, when she tumbled backward to the ground. The ace performer she is, the pop star carried on like nothing happened, and began crawling and singing, undaunted.
Lindsay Lohan attended a news conference in New York on Tuesday for the new biopic Gotti: Three Generations and posed alongside the inspiration for her possible new role, Victoria Gotti. The 24-year-old Mean Girls star was Gotti's first choice to play her, over other A-list starlets such as Sienna Miller and Blake Lively.
Article continues below advertisement
Little Suri Cruise looked like she was already counting sheep, as her doting dad Tom carried her out of an Italian restaurant in New York City Tuesday night. The Cruise clan dined at Il Cantinori restaurant after Tom and Katie saw the smash Broadway musical American Idiot.
Just Like A Pill singer Pink showed off her growing baby bump in Los Angeles on Thursday while picking up some coffee. This will be the first child for Pink, 31, and her hubby Carey Hart, a 35-year-old motocross racer.