VIDEO & PHOTOS: Kristin Chenoweth Honored At Star-Studded GLAAD Awards In LA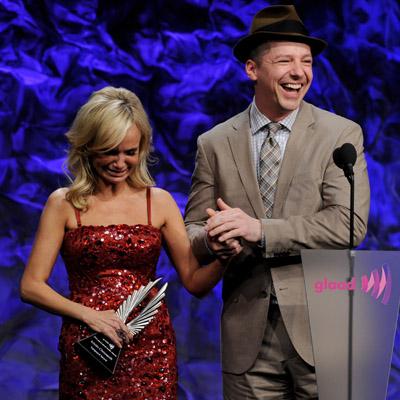 Broadway beauty (and Glee guest star) Kristin Chenoweth received the Vanguard Award, and NBC Entertainment Chairman Robert Greenblatt got the Stephen F. Kolzak Award, at GLAAD's (Gay & Lesbian Alliance Against Defamation) 22nd annual Media Awards at Los Angeles' Westin Bonaventure Hotel on Sunday, where the stars came out en mass.
"Having so much fun!" Chenoweth tweeted during the festivities Sunday night.
Article continues below advertisement
Chenoweth, who received the honors for taking a public stand for gay actors in their ability to to play straight roles, was presented with her award by her Broadway co-star, Sean Hayes. (The pair appeared together in Promises, Promises.)
Last year, after Newsweek writer Ramin Setoodeh said the openly gay Hayes was unconvincing in his role as a straight man in the Broadway production, Chenoweth jumped to the defense of her co-star, calling Setoodeh's words offensive.
"I've observed nothing 'wooden' or 'weird' in Hayes' performance, nor have I noticed the seemingly unwieldy presence of a 'pink elephant' in the Broadway Theater," she said. "This article offends me because I am a human being, a woman and a Christian.
"For example, there was a time when Jewish actors had to change their names because anti-Semites thought no Jew could convincingly play Gentile."
In a surprise appearance, country legend Dolly Parton presented Greenblatt with his award during the ceremony, which was hosted by Parks and Recreation co-stars Amy Poehler and Rashida Jones.
Article continues below advertisement
Other winners on the night included Glee and Modern Family, which tied for best comedy, and I Love You Phillip Morris, which received outstanding film (limited release).
Stars in attendance included the cast of Fox's hit Glee, Spiderman stunner Kirsten Dunst, sexy Lisa Vanderpump and reality star Tori Spelling.
For a full list of winners and photos from the event check out http://www.glaad.org/mediaawards/22/la.
Watch the video on RadarOnline.com
The GLAAD Media Awards continue in San Francisco on May 14.