Magazine Cover With Elton John's Baby Too Controversial for Arkansas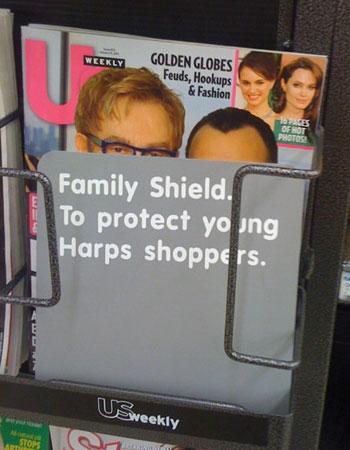 UPDATE: The Arkansas supermarket has reversed its decision Wednesday to hide a magazine cover showing Elton John and his same-sex partner David Furnish holding their new baby.
Harps Food Stores President Kim Eskew released this statement: "When we began receiving complaints at our corporate office, we reviewed the magazine in question, removed the shield and are selling the magazine in all our locations today without any cover," Eskew said Wednesday. "Our true intention is not to offend anyone in our stores and this incident happened at just one of our 65 locations, which, when brought to our attention, we reversed."
Article continues below advertisement
---
A small supermarket in Arkansas has become the center of a media firestorm after they censored an US Weekly cover with Elton John and his partner David Furnish cradling their newly adopted son Zachary.
Local shopper at Harps Supermarket in Mountain Home, Jennifer Huddleston, took an image of the magazine which was covered with a placard reading: "Family Shield: To protect young Harps shoppers."
When she Tweeted about the disclaimer, which is normally used to cover pornographic magazines, the Internet started buzzing about the story originating from the deeply religious town.
The censored cover can be seen here.
"This was taken at my local grocery store. I was shocked and horrified. Can you help bring attention to this," Huddlestone tweeted.
"They are saying they need to keep children from seeing it, because it is a gay family."
When RadarOnline.com contacted Harps, the store manager was coy about the reason for covering-up Elton John and his new baby.
He said: "It is a private matter and we have no comment – all I will say is that the magazine is currently for sale and available for the public to buy in our store."
Article continues below advertisement
Ironically, an Arkansas judge in April struck down that state's voter passed ban against unmarried couples adopting or foster-parenting children.
But the area remains deeply sensitive to gay rights as illustrated by Harps decision to cover up the weekly tabloid's cover.
GLAAD (The Gay and Lesbian Alliance Against Defamation) spokesperson Aaron McQuade said his organization was aware of the story and had investigated the incident.
"I spoke with Harps Corporate Executive Assistant Marty Yarborough, who told me that every Harps store is equipped with these shields and that they get put up whenever customers complain about the content of a magazine cover," he told RadarOnline.com.
VIDEO: Ricky Martin & Other Stars Unite For Anti-Gay Bullying PSA
"She said the word from the store about this particular cover was that "several" customers had complained, so the shield went up.
Article continues below advertisement
"She also confirmed that these shields are utilized on a store-by-store basis, so the magazine would not have been covered up at any of the other Harps locations, unless customers complained there as well.
"I was told that the usage of the shield on this particular cover is 'in no way our opinion on this issue and we do not have an opinion on this issue'."
This statement will no doubt NOT impress superstar Elton John who announced in the magazine that they had their son via a surrogate mother in California - Zachary Jackson Levon Furnish-John, was born on Christmas day, and weighed seven pounds and 15 ounces
The flamboyant performer – who recently performed at the $3 million fundraiser for the American Foundation for Equal Rights in Los Angeles in support of marriage rights, and issued some harsh words for opponents of equality.
"It seems so ridiculous I could be with my partner for 17 years and we have a son, and my partner and I can't get married," he told the crowd before issuing a 'f*ck you,' to those responsible for keeping him from marriage.